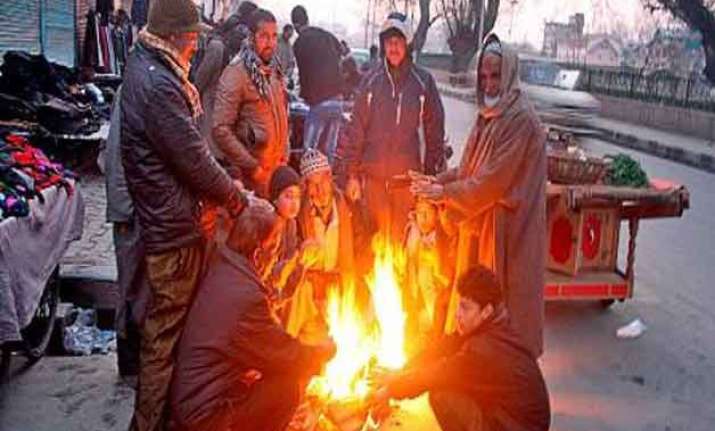 New Delhi: Cold wave conditions today eased a little in northern plains though winter continued its grip across hills of Kashmir and Himachal Pradesh.  Foggy conditions, however, continued to disrupt road, rail and air traffic in many areas of the region.  In the national capital, it was a pleasant day with the mercury registering an increase.
The maximum temperature in Delhi settled at 21.1 degrees Celsius, a notch above the season's average while the minimum stood at 8.4 degrees.  According to officials, early morning fog disrupted operations of 30 flights at the Indira Gandhi International Airport and 55 north-bound trains including premiere services like Rajdhani, Shatabdi and Duronto.
People across Punjab and Haryana also got partial relief from the chill as day temperatures rose at most places even as fog continued to affect rail and air services.  Chandigarh recorded a maximum temperature of 22.5 degrees Celsius, two notches above normal.
At most other places too, day temperatures settled above normal level including at Ambala (21.2 degrees Celsius), Hisar (20.2), Karnal (21), Ludhiana (20.4 ), Patiala (20.2) and Amritsar (19.9). Minimum temperatures too hovered close to normal level.  Two flights from Delhi to Chandigarh had to be cancelled while two others were late due to inclement weather.
Some trains were also running late, officials said.  Mercury also hovered around normal levels in Rajasthan, even as fog disrupted normal life in several parts of the state. Churu in the plains remained the state's coldest at 5.1 degrees Celsius, followed by Kota 5.6 degrees.  Mount Abu, the state's sole hill station, registered a minimum of 1 degree Celsius.
Meanwhile, cold wave tightened its grip in Kashmir and Ladakh regions as minimum temperatures dropped by around a degree in Kashmir Valley and plunged by five notches in Ladakh region.
"A fresh western disturbance is likely to affect Jammu and Kashmir from January 20 onwards," a MeT official said.  Srinagar, the summer capital of Jammu and Kashmir, registered a dip of a degree in the night temperature which settled at minus 3.3 degrees Celsius compared to minus 2.3 degrees Celsius the previous night.
Qazigund, the gateway town to the Kashmir Valley in south, recorded a low of minus 4.4 degrees Celsius, as against the previous night's minus 3.8 degrees. The mercury in south Kashmir hill resort of Pahalgam recorded a minimum of minus 6.2, down from the previous night's low of minus 5.6 degrees.  The famous ski-resort of Gulmarg was the coldest recorded place in the Valley with a minimum of minus 7.4 degrees, down by over one notch from the previous night's minus 6.2 degrees.  
The night temperatures in Kupwara, in North Kashmir, and Kokernag, in south, went down by around a degree each to stand at low of minus 4.7 and minus 1.6 degrees, respectively.  Leh town, in the frontier Ladakh region, recorded a minimum of minus 15.1 degrees Celsius, down by five degrees from the previous night's minus 10 degrees Celsius.  Kargil was the coldest place in the state at minus 15.8 degrees Celsius, around five notches down from the previous night's low of minus 11.0 degrees Celsius.
Kashmir Valley is currently under the grip of 'Chillai-Kalan' - the 40-day harshest winter period - which began on December 21.
In Himachal Pradesh, biting cold wave conditions sweeping the tribal areas and other higher hills further intensified as the mercury dropped marginally in tribal areas and hovered around the freezing point in mid and lower hills.  High altitude tribal areas groaned under arctic conditions with night temperatures staying between minus 16 and minus 24 degrees Celsius.