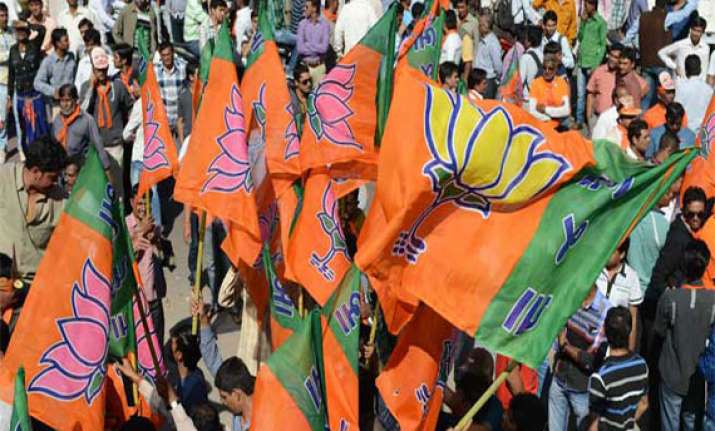 Raipur: The ruling BJP emerged victorious in two tribal reserved seats of Chhattisgarh while maintaining lead on seven out of 11 Lok Sabha seats.  Opposition Congress is ahead in the other two seats.  
BJP's state unit chief and sitting MP Vishnudeo Sai registered win by a huge margin of 2,16,750 votes from Raigarh (ST) seat against Congress' Aarti Singh.  Another BJP strongman and sitting MP from Naxal-hit Bastar seat, Dinesh Kashyap defeated Congress candidate Deepak Karma by 1,24,359 votes.
From Bilaspur seat, BJP candidate Lakhanlal Sahu is leading by 1,72,782 votes against Karuna Shukla (Cong) and Kamalbhan Singh Marawi of BJP is leading by 1,37,396 votes against Congress' Ram Dev Ram from Surguja(ST).  Chief Minister Raman Singh's son and debutant Abhishek Singh is leading by 2,35,911 votes against Congress' Kamleshwar Verma.
Sitting BJP MP from Raipur seat and party veteran Ramesh Bais is leading by 1,06,938 votes against incumbent Congress MLA Satyanarayan Sharma while another party sitting MP Kamla Devi Patle is leading by 1,49,876 votes against Congress' Prem Chand Jaisi from Janjgir-Champa seat (SC).  
Former minister and sitting BJP MLA Vikram Usendi is leading by 35,158 votes against Congress nominee Phulo Devi Netam from tribal reserved Kanker (ST).  In Korba seat, BJP's Banshilal Mahto is leading by 1,506 votes against union minister of state for agriculture and veteran Congress leader Charandas Mahant.  
Former Chief Minister and Congress strongman Ajit Jogi is leading by 3,663 votes over sitting BJP MP Chandulal Sahu.  In Durg seat, Congress' Tamradhwaj Sahu is leading by 7,990 votes over BJP Mahila Morcha national president Saroj Pandey.
In the 2009 general elections, BJP had won 10 out of 11 seats while the lone Korba constituency was captured by Congress.