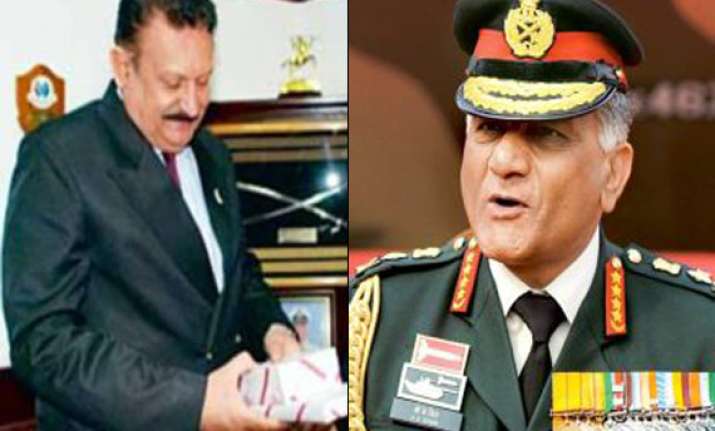 New Delhi, Mar 27: The CBI today received an audio tape carrying a conversation purportedly between Army chief General V K Singh and another person, in connection with the alleged bribery case referred to it by the Defence Ministry. 
Sources in the agency refused to reveal how these tapes claimed to be of the meeting, in which the alleged bribery offer was made, reached them but said their veracity and authenticity were yet to be established.
The tapes carry a conversation purportedly between Singh and another officer in which the former is said to be shouting.
However, they said the voices in the tapes are not authenticated so nothing can be said about their veracity. 
Meanwhile, the agency has asked the Defence Ministry to make available a complaint from Singh besides other details such as list of witnesses and supporting documents after which it would initiate its probe in the case, they said. 
The sources said the agency has not registered a formal inquiry in the case so far and any action would be initiated after it receives a complaint from Singh. 
They said they have received a "reference" from the Defence Ministry to probe the matter and it has been processed as per the laid down procedure. 
A preliminary enquiry or an FIR could be registered soon after completion of the procedural requirements. 
The Army Chief had claimed in media interviews that an equipment lobbyist had offered him a bribe of Rs 14 crore, a matter which he had reported to Defence Minister A K Antony. 
The Ministry had then recommended a CBI probe into the allegation made by the Army chief.
Defence Minister A K Antony said the Army chief had told him about the bribe offer verbally more than a year back and he had told the General to take action.
The Army Chief told Antony that that he did not wish to pursue it, he said.  There was no written communcation from the Army Chief on the bribe offer, the minister said.
The Army chief has said the lobbyist offered him the bribe in order to have a tranche of 600 sub-standard vehicles of a particular make cleared for purchase. 
"Just imagine, one of these men had the gumption to walk up to me and tell me that if I cleared the tranche, he would give me Rs 14 crore. He was offering a bribe to me, to the Army chief. He told me that people had taken money before me and they will take money after me," Gen Singh has said.