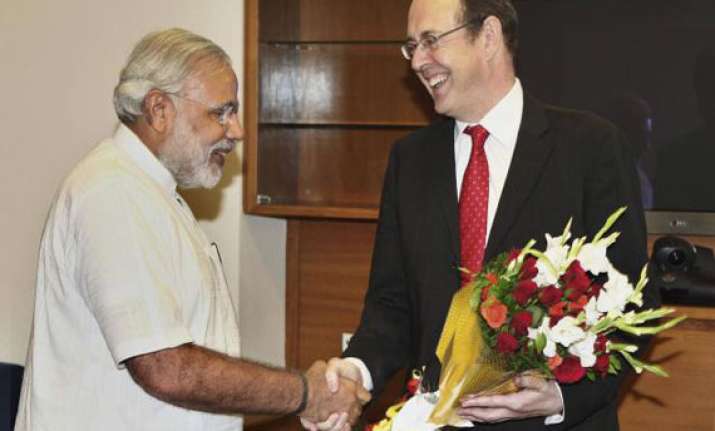 New Delhi, Dec 6: Defending its decision to end the boycott of Gujarat over 2002 riots, Britain today said it cannot ignore the state if it wanted to build a stronger relationship with India.
Pitching for a closer cooperation on a range of subjects and a permanent seat for India in UNSC, British High Commissioner James Bevan said both the countries were working more closely together, both on the ground in places like Afghanistan, and in international organisations like the UNSC.
Noting that Britain was not seeking an exclusive partnership with India, he said both countries have "many friends and partners" around the world but his country do think that there is a "unique fit" between them that means they can aspire to do much more together in the coming years.
Delivering a lecture 'The UK and India: Myths, Reality and Prospects', Bevan cited the recent decision of Britain to re-engage with Gujarat on trade and easing travel advisory on Jammu and Kashmir to show that his country likes to have a robust partnership with the country.
"Our belief that India will matter more and more in future, and that all of India matters, also played a part in our recent decision to change our policy on Gujarat. Since the 2002 riots, the British government has had no high level contact with the government of Gujarat.
"But if you want to build a stronger relationship with India, as we do, you can't ignore Gujarat. And if you want to deal with any Indian state, you need to deal with the government of that state," he said.
Britain had decided to re-engage with Gujarat and Bevan met Chief Minister Narendra Modi on October 22. Bevan had then said the decision should not be seen as an endorsement of Modi but as an "engagement with Gujarat".
Referring to the easing of travel advisory on Kashmir for the first time in 20 years, he said it reflects an "objective assessment" of the security situation.
Bevan said the "improvement" in the security situation in Kashmir and the relaxation of travel advisory will allow an increase in British tourists and businesses to the benefit of local economy and people-to-people ties.
He said both the countries have agreed to move to a modern development partnership, which is no longer based on UK financial aid but on technical cooperation and support for private sector to unlock growth and jobs that benefit poor.
Bevan noted that both the countries were working more closely together on the world stage, both on the ground in places like Afghanistan, and in international organisations like the UNSC.
"Britain remains committed to India's permanent membership, and we and India have enjoyed a close working relationship during India's tenure on the Council," he said.
On cooperation on security-related issues, Bevan said security and intelligence agencies now cooperate on a daily basis to fight terrorism, cyber crime and other threats to our security.
He said cooperation in security area is perhaps the fastest growing and most successful of all the relationships both now have with each other.
Commenting that "historically underperformed" economic relationship has started to thrive again, he said the bilateral trade grew by 26 per cent last year bringing the total to 16 billion pounds with British Petroleum making the single largest foreign investment into India.
Emphasising on the growing economic ties between the two countries, he said the countries were on track to meet the target of doubling trade by 2015.
"Tata is now the largest manufacturing employer in the UK (45,000 jobs). There is a natural fit between our two economies," he said adding they want Indian business people to continue to come to the UK," Bevan said.