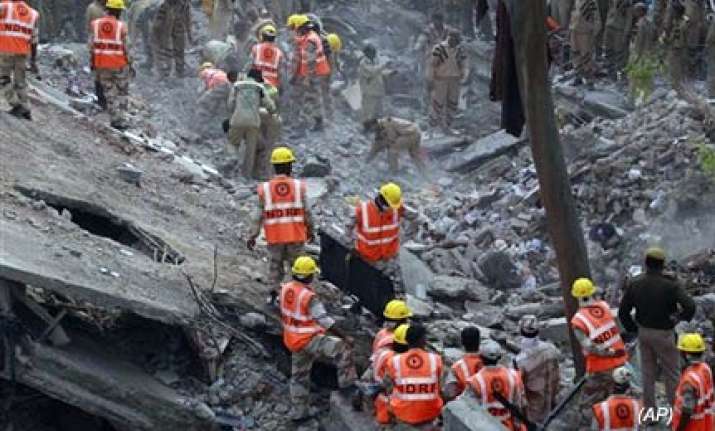 New Delhi, Nov 16: Cheap rent and village brotherhood were the two factors which led more than 60 people from the same village to live in the same building.
But little did they know that they would all meet the same fate under the debris of the ill-fated building which collapsed like a pack of cards here last evening.
As 30-year-old Mohammad ran from one hospital to another looking for people from his village Sikhtiya of Bihar's Katihar district, he lamented why all of them were staying together in the same building.
Mohammed, who is into making handicrafts, says some 60 people from his village have been staying in the building for the past few months. All were labourers and were staying in the building as the rent was cheap.
"Most of them were engaged in construction business. They are all 'mazdoors'. I have been running from one hospital to another to check the fate of the people from my village," he said.
Mohammed said he had been getting calls from various people in his village who want to know the fate of the near and dear ones. "There were 60 people from the village alone and I don't even know whether they are alive or dead."
Some people said they had been getting calls on their mobile phones from people trapped inside.
Shymala Devi said her son called her from his mobile phone from inside the debris last night.
"He called me and spoke to me last night. He cried profusely as he spoke to me. But from this morning I am frantically trying to call him but the phone is switched off," she said.
"I don't know what to do and what is the fate of my son. I hope he is alive," she said.
Meanwhile, Chief Minister Nitish Kumar today asked the state's Resident Commissioner and Joint Labour Commissioner in New Delhi to reach medical help to the injured persons from Bihar.
"The chief minister has asked the RC and JLC to monitor the situation on the spot and visit the hospitals to reach all-possible medical help to the injured Biharis admitted there," an official spokesman said.
Kumar was informed by the officials from New Delhi that three persons -- two from Saharsa and another from Katihar -- died in the collapse, he said. PTI