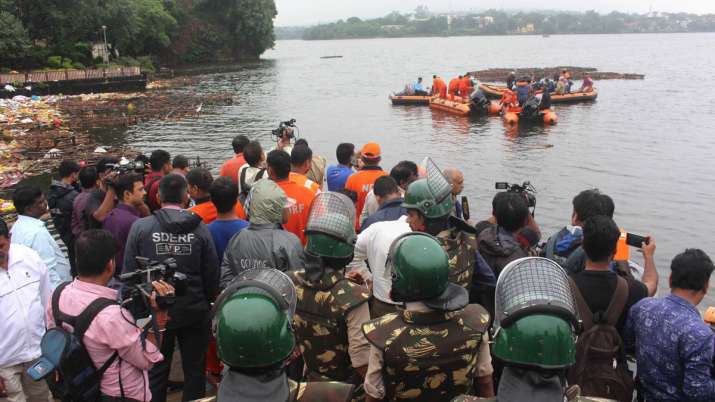 Eleven people drowned when the boat carrying them along with a Ganesh idol capsized in Lower Lake of Bhopal, police said on Friday.
The incident took place on the intervening night of Thursday-Friday in Khatlapura on the banks of the Lower Lake when a group of people were taking the Ganesh idol for immersion, Deputy Inspector General (DIG), Bhopal, Irshad Wali told PTI.
The accident took place around 4.30 a.m. at Khatlapura Ghat of lower lake near the newly renovated state police headquarters and the State Disaster Rescue Team (SDRF).
Eleven bodies were fished out from the lake by the rescue team, the official said.
Unconfirmed reports said 13 people drowned in the incident.
According to eyewitnesses, two boats were interlinked, carrying 23 people. All people were aged 27-28 years. No one was wearing a life jacket. As one boat overturned, people from it tried jumping on to the other. And the balance was lost, IANS reported. 
Meanwhile, Chief Minister Kamal Nath has announced an ex gratia of Rs 4 lakh to each of the dead and ordered a magisterial inquiry into the incident.
ALSO READ | NDRF rescue boat overturns in Karnataka's Koppal as flood situation worsens
ALSO READ | 9 dead, several missing after boat capsizes in Maharashtra's Sangli district; rescue efforts on