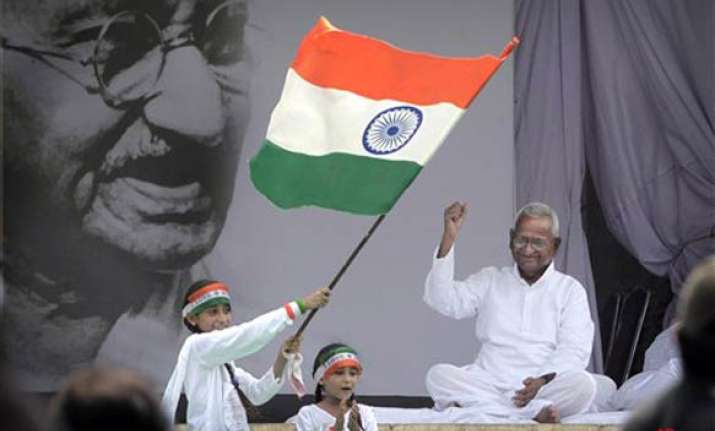 New Delhi, Aug 23: Anti-corruption crusader Anna Hazare on Tuesday gave a call to his supporters to Ramlila Maidan to stage large protests outside the homes of MPs if the Jan Lokpal Bill was not taken up by Parliament. 

In his 30-minute long address to the gathering, Hazare said, he approved of groups of supporters protesting outside the residences of MPs.

"If the Jan Lokpal Bill is not taken up by Parliament by August 30, I will ask all of you here to go in large numbers to the houses of MPs and stage your protests there", he said amidst deafening applause. Speaking to his supporters after a gap of 17 hours, during which apprehensions were raised about his health, Anna said, he was alright and he had so far last 5.5 kgs.

"It is a good thing that you have staged protests outside the homes of more than 150 MPs. We the people are the arbiters of India's destiny, and such protests are necessary to carry the movement forward", said the Gandhian.

"But I am worried about another thing. There are four to six persons who are running this government. These individuals do not think about the nation's interest. What will happen to this country if such people run the government?", said Anna.The septuagenarian activist derided allegations that he was not raising his voice about the problems of Dalits and farmers.

"These people, who I believe are brothers of Kapil Sibal, say that I have not worked for Dalits. Go to Ralegan Siddhi. You will find how I organised people of the entire village to give "Shram Daan" for Dalit farmers' land for two years to help them repay their loans of Rs 60,000. Dalits in our village were not earlier allowed by Patels to take their bullocks from the front in an event. Now the Dalits take their bullocks from the front and the Patels come at the last", said Anna.

Hazare had a harsh word for some of his supporters who were consuming liquor while taking part in the protest at Ramlila Maidan.

"Drinking liquor and smoking is bad for your health. Tell me one pahalwan (wrestler) who has attained good health by consuming liquor. I have heard that some of our people here drink liquor. This is not good. Stop it immediately. You should practise austerity and purity both in your behaviour and in your thoughts", said Anna.

"We are yet to attain real freedom. The whites have gone, and the browns have taken their place. Today is the eighth day of my fast. God had always been behind me in my life. Even the supari killers who were sent to kill me had a change of heart", said Hazare.

About his health, Anna said, he had full faith in Dr Naresh Trehan and his team. "I have full faith in them and I know they will not allow me to die", he added.

"Millions of people came out to fight for our freedom, thousands laid their lives. But these 'traitors' (gaddars) for their own self-interest destroyed our freedom. I haven't gone home for the last 35 years. I don't even know the names of the sons of my brothers. I have devoted my whole life to the nation. I am prepared to lay down my life rather than bow down to these people", said Hazare.

"People become millionaries, billionaries in their lifetime. But do the people of these country celebrate the birth anniversaries of billionaires? No. They celebrate the birth anniversaries of people like Gandhi who laid down their lives for the nation. It will be a great fortune for me to lay down my life for the nation", said Hazare.

"There are issues related to farmers, workers and tribals, but if we have to take this country forward, the foremost issue is eradication of corruption",said Hazare.

"I have a request to you. The revolution that you have started must not wither away, whether I am alive or not. You must not let this flame be extinguished", said Anna amidst huge applause.

The Gandhian reminded his supporters that the Gram Sabha was more powerful than the Lok Sabha and Vidhan Sabha. "It is the Gram Sabha which sends its support to the elected representatives in both he Lok Sabha and Vidhan Sabha. It is the Gram Sabha which must be given full powers to decide whether the land should be acquired by government or not".