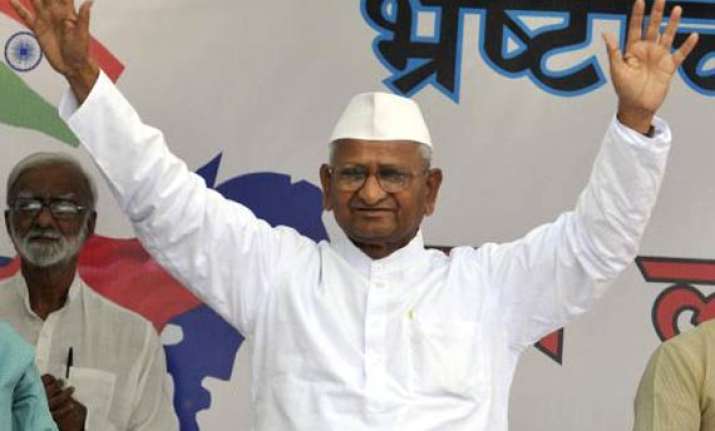 New Delhi, Aug 11: Social activist Anna Hazare has threatened to stop water intake if police tried to forcefeed him, or arrest him or take him to hospital against his wishes after August 16, his aide Arvind Kejriwal announced on Thursday.

Speaking to media after a meeting of the core committee in Noida on Thursay, Kejriwal said,  Anna Hazare has himself made this announcement at the meeting. "This is Anna's wish", added Kiran Bedi.
 
Prior to that, on August 15, Anna Hazare will address the nation at 7 pm, Kejriwal said.  Team Hazare has appealed to people to keep their lights off in their homes and offices for one hour on Aug 15 from 8 pm to 9 pm to express their solidarity over Jan Lokpal Bill. Hazare has appealed to people to light 'diyas' during this time.
 
"We consider this  an adhoori azaadi (incomplete independence) because of widespread corruption, poverty, and illiteracy", said Kejriwal.
 
On August 16, as Hazare sits on indefinite fast, Team Hazare supports will conduct relay fast, indefinite fast, peace meetings and prayer meetings throughout the country. This plan was chalked out at today's meeting of the core committee.
 
Team Hazare has appealed to its supporters to maintain utmost restraint and peace during the agitation.
 
"We have information that outsiders are going to infiltrate miscreants into our agitation in order to defame and obstruct it. We appeal to all to remain vigilant and not resort to violence under any provocation", Kejriwal said.

Team Hazare circulated a survey conducted among voters in Congress leader Rahul Gandhi's Amethi constituency and claimed that 90 per cent of the people who took part in the survey were in favour of a Jan Lokpal Bill.