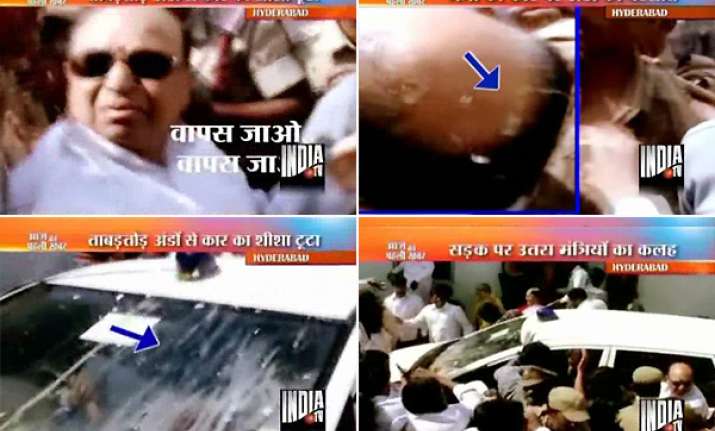 Hyderabad, Dec 21: Andhra Pradesh Textiles Minister Shankar Rao was at the receiving end of irate people in NTR Nagar here on Tuesday, when stones, rotten eggs and tomatoes were pelted at his car. The attackers were supporters of Home Minister Sabita Indra Reddy.

The window panes of the minister's car broke, but Shankar Rao managed to escape unscathed. The mob alleged that the minister was a "land grabber".

Shankar Rao was visiting a plot of land which was the bone of contention between Sabita Indra Reddy's son and another person.

The crowd was shouting "Go Back" as eggs and tomatoes rained on the minister's head and face.

With the help of police, the minister managed to escaped the wrath of the mob.

Police said, the attackers were Congress and NSUI activists.

The minister blamed Home Minister Savita Indra Reddy for this attack and demanded that the chief minister should dismiss her from the cabinet.

Shankar Rao also demanded a CBI probe into the assets owned by Sabita Indra Reddy and her family members.

Shankar Rao had filed a petition in the High Court in October this year against Sabita Indra Reddy and Excise Minister M Venkataramanna  asking for a probe into their disproportionate assets, but the petition was dismissed.