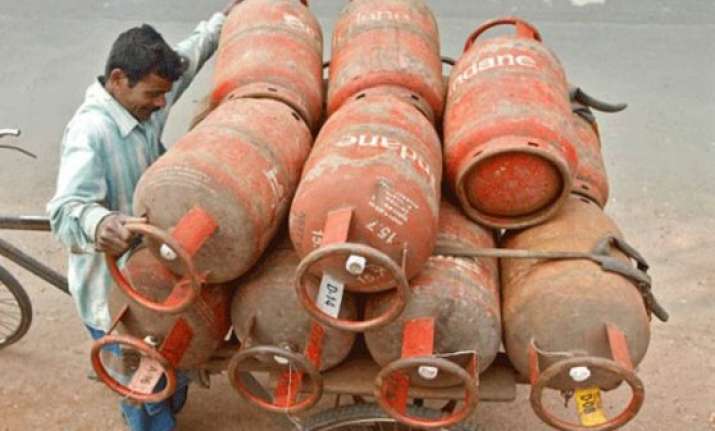 New Delhi: Cooking gas (LPG) consumers will be able to get subsidy directly in their bank accounts from November 15 even if they don't have Aadhar numbers, as the government will re-launch the Modified Direct Benefit Transfer Scheme.
The scheme will be initially re-launched in 54 districts from mid-November and in rest of the country from January 1.
The decision was taken at the Cabinet meeting chaired by Prime Minister Narendra Modi.
"The UPA government had only linked it (DBT) to the Aadhaar platform. There were some legal issues including some court orders, which had prevented the effective implementation of the scheme....therefore we have decided that in addition to the Aadhaar platform all those who have a bank account will also get the LPG subsidy in their accounts directly," Finance Minister Arun Jaitley said after the Cabinet meeting.
LPG consumers who have opened accounts under the Jan Dhan Yojana too would benefit from the revised scheme. He said over 6 crore such accounts have been opened so far.
He said the scheme will be implemented in a mission mode and 'alleviate the hardship of the LPG consumers faced by them in the earlier scheme.... This will ensure that no consumer is denied LPG subsidy for want of Aadhaar number'.
The subsidy amount will be fixed by the government, he said, adding that all LPG consumers who join the modified scheme can receive LPG cash subsidy.
"Those who are still left outside the scheme, those who are neither have an Aadhaar identity or a bank account...the cylinder system will be still available for them for some time," Jaitley added.
All LPG consumers, who had already joined the scheme solely based on Aadhaar number, will start getting subsidy in their Aadhaar linked bank accounts after scheme is launched.
LPG consumers will get a grace period of three months during which consumers who have joined the scheme will get subsidy in bank accounts and others will continue to get cylinders at subsidised price.