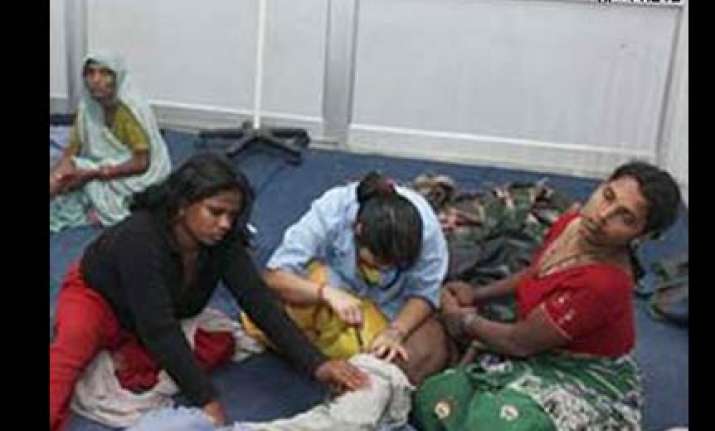 63 people--all of them women and children-- were killed on Thursday in a stampede at an ashram of a popular godman near Pratapgarh when a gate collapsed triggering panic among the 10,000-strong crowd that had converged for a ritual.
 Over 100 persons were injured, 28 of them seriously, in the tragedy that occured around 9.30 am when poor farmers and villagers had gathered to receive food and clothes from Kripalu Maharaj's ashram at Kunda, 75 km from here.
"Thirty-seven women and 26 children have died in the stampede while 28 seriously injured patients have been referred to the SRN hospital in Allahabad", Inspector General of Police, Allahabad, Chandra Prakash told PTI.
The stampede broke out when the under-construction gate on the perimeter of the temple complex in Mangarh area of Pratapgarh district came crashing down as thousands of people jostled with each other, police said.
The Ashram had organised a function for distribution of food and utensils for the "Shradh" (post-death rites) of Kripalu Maharaj's wife, Kunda Sub-divisional Magistrate Shyama Charan said. The octogenarian Maharaj, a devotee of Lord Krishna, commands tremendous following across the country.
 The Uttar Pradesh govenment has ordered an inquiry by the Commissioner of Allahabad division who has been asked to submit his report within 24 hours.
 An FIR has been filed in connection with the stampede, State Cabinet secretary Shashank Shekher Singh said.
Eyewitnesses alleged that the death toll was more than 63.
They said many of those killed had fallen into a borewell near the gate. The ashram is spread over nearly six hectares of land in a remote area.
As questions were raised over crowd management, Officials said the district authorities were not given prior intimation about the function.
Trouble began when the southern gate of the ashram through which female devotees were entering the premises collapsed under the pressure of the swelling crowd.  Some eyewitnesses alleged that infuriated ashram officials then began to chase away women and children, leading to a stampede in the narrow pathway leading to the gate.
 As news of the incident spread, locals rushed to the spot, many of them eager to know the whereabouts of their near and dear ones who had visited the ashram. Free meals were to be distributed there and every visitor was to receive a gift of a stainless steel plate, Rs 10 in cash, a 'laddoo' and a handkerchief. 
A police party also reached the spot, as additional forces from adjoining districts and personnel of the Provincial Armed Constabulary were pressed into service and the situation was brought under control, IG Chandraprakash said.  The entire complex was cordoned off by the police, which caused much resentment among villagers who had reached the ashram to enquire about their relatives who had left their homes to attend the 'bhandara (community kitchen)'.
Uttar Pradesh Minister Nasimuddin Siddiqui accompanied by cabinet colleague and state BSP chief Swami Prasad Maurya also reached the spot and offered condolences on behalf of Chief Minister Mayawati.
Congress President Sonia Gandhi on Friday condoled the death of women and children in a stampede at an ashram of a godman near Pratapgarh in Uttar Pradesh.  Gandhi expressed grief and conveyed her condolences to the bereaved families, a party statement said here. 
63 people were killed in the stampede at an ashram near Pratapgarh yesterday when a gate collapsed triggering panic among the 10,000-strong crowd that had converged for a ritual.   Over 100 persons were injured, 28 of them seriously, in the tragedy that occurred when poor farmers and villagers had gathered to receive food and clothes from Kripalu Maharaj's ashram at Kunda. PTI