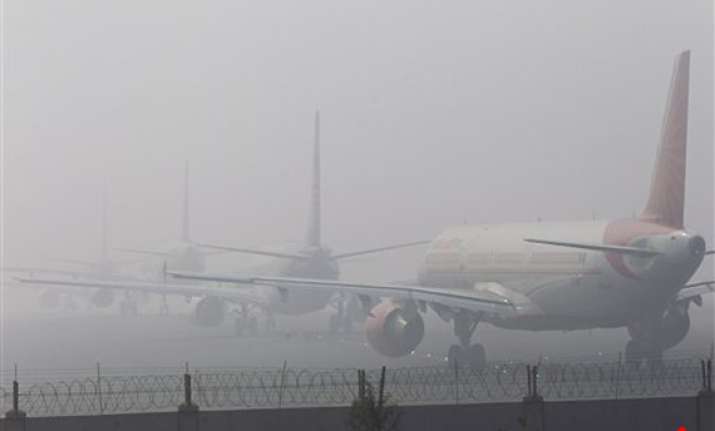 New Delhi, Dec 31: Train and air services continued to be badly affected due to fog  in and around Delhi till early Saturday morning.

A Northern Railway press release said, 27 trains have been cancelled, 12 others partically cancelled, and 22 trains are running late due to fog in the national capital region.

Trains cancelled include Jharkhand Swaran Jayanti Exp, Ujjaini Express, Janata express, Garhwal Exp, Allahabad-Haridwar Exp, Varanasi-dehradun Exp, Prayagraj-Bareilly Exp, Lucknow-Chandigarh Exp, Jaipur-Amritsar Exp, Delhi-Agra, Delhi-Amritsar Inter City Exp, and Kalindi Express.

Sealdah-Jalianwala Bagh Exp is running late by 20 hours, while Delhi-Alipurduar Sikkim Mahananda exp is running late by 17 hours.

PTI adds:  Dense fog enveloped the IGI Airport here this morning, delaying around 25 flights.

Fog started to descend over the airport in the wee hours due to which runway visibility dipped to less than 100 metres on the main as well as on the other runways.

Since the visibility was less than the required minima of 125 metres and 15 metres, flights could not take off.

But as soon as the visibility improved around 6 AM, flight operations resumed, according to an airport official.

Yesterday, around 400 domestic and international flights were affected as dense fog enveloped the airport, reducing the visibility to less than 50 metres for more than 7 hours.

A total of 41 flights were cancelled, 322 were delayed and 30 were diverted due to fog.

NORTHERN  RAILWAY
NEW DELHI
Dated: 31.12.2011                             Time 12.30 Hrs.
RESCHEDULING OF TRAINS DUE TO FOG
TRAIN NO.
TRAIN NAME
FROM
TO
SCH. DEP.(HRS.)
RE.SCH. DEP(HRS.)
Passengers may check latest status of their train from Railway Enquiry No. 139, Railways website or New Delhi Fog Helpline No. 011-23747110
12388
JAN SADHARAN EXP
ANAND VIHAR
RAJENDER NAGAR
14.30
22.50
LATE RUNNING OF TRAINS MORE THAN ONE HOURS DUE TO FOG IN DELHI AREA
TRAIN NO.
TRAIN NAME
FROM
TO
SCH. ARR.(HRS)
LATE BY  (HRS.)
14083
SIKKIM MAHANANDA EXP
ALIPUR DWAR
DELHI JN.
18.10
17.30
12427
REWA EXP
REWA
NEW DELHI
5.45
5.30
12387
JANSADHARAN EXP
RAJENDER NGR
ANAND VIHAR
10.00
10.00
12401
MAGADH EXP.
ISLAMPUR
NEW DELHI
6.00
6.00
12189
MAHAKAUSHAL EXP
JABALPUR
H.NIZAMUDDIN
11.35
2.15
12715
SACHKHAND EXP
NANDED

 

NEW DELHI
12.10
1.30
12629
KARNATKA S.K EXP.
YASWANTPUR
H.NIZAMUDDIN
9.15
2.15
14649
SARYU YAMUNA EXP.
JAYANAGAR
DELHI JN.
11.50
1.15
12121
MP S.K EXPRESS
JABALPUR
H.NIZAMUDDIN
9.05
2.15
12917
GUJARAT S.K.EXPRESS
AHMEDABAD
H.NIZAMUDDIN
10.35
1.45
12716
SACHKHAND EXP
AMRITSAR
NEW DELHI
13.10
2.45
14660
JAISLMER-D SARAI ROH EXP
JAISLMER
D.S.ROHILLA
11.10
1.30
12247
YUVA EXP.
BANDRA TRNS.
H.NIZAMUDDIN
9.45
2.00
12393
SAMPURAN KRANTI EXP.
RAJENDER NGR
NEW DELHI
8.35
2.15
12561
S. SENANI EXP.
DARBHANGA
NEW DELHI
12.30
1.45
14646
SHALIMAR EXP.
JAMMU TAIW
DELHI JN.
10.55
1.00
12817
JHARKHAND S.J. EXP.
HATIA
DELHI JN.
14.00
1.00
12627
KARNATKA S.K EXP.
BANGALORE
NEW DELHI
10.35
1.30
12925
PASCHIM EXP.
BANDRA TRNS.
NEW DELHI
10.40
1.15
15273
SATYAGRAH EXP.
RAXAUL
DELHI JN.
9.20
1.15
9721
JP-DEE S.F. SPL
JAIPUR
DELHI S. ROHILLA
10.30
1.15
12379
JALIANWALAN BAGH EXP.
SEALDAH
DELHI JN.
11.55
20.00
CANCELLATION OF TRAINS DUE TO FOG
TRAIN NO.
TRAIN NAME
FROM
TO
CANCELLATION FROM - TO

 

54307
MORADABAD - DELHI PASS
MORADABAD
DELHI
CANCELLED TILL FURTHER ADVICE
12873
JHARKHAND S.J. EXP.
HATIA
ANAND Vihar
01.12.11
31.01.12
12874
JHARKHAND S.J. EXP.
ANAND VIHAR
HATIA
02.12.11
01.02.12
13'
JANATA EXP
HOWRAH
DELHI JN.
01.12.11
31.01.12
13040
JANATA EXP
DELHI JN.
HOWRAH
03.12.11
02.02.12
14005
LICHHAVI EXP.
SITAMARHI
ANAND VIHAR
03.12.11
02.02.12
14006
LICHHAVI EXP.
ANAND VIHAR
SITAMARHI
02.12.11
30.01.12
14309
UJJAINI EXP.
UJJAIN
DEHRADUN
02.12.11
01.02.12
14310
UJJAINI EXP.
DEHRADUN
UJJAIN
01.12.11
31.01.12
14043
GARHWAL EXP.
KOTDWAR
DELHI JN.
01.12.11
31.01.12
14044
GARHWAL EXP.
DELHI JN.
KOTDWAR
01.12.11
31.01.12
14115
ALLAHABAD- HARIDWAR EXP.
ALLAHABAD
HARIDWAR
01.12.11
31.01.12
14116
HARIDWAR-ALLAHABAD EXP.
HARIDWAR
ALLAHABAD
02.12.11
01.02.12
14265
VARANASI-DEHRADUN EXP.
VARANASI
DEHRADUN
01.12.11
31.01.12
14266
DEHRADUN-VARANSI EXP.
DEHRADUN
VARANASI
01.12.11
01.02.12
14307
PRAYAGRAJ-BAREILLY EXP.
PRAYAG
BAREILLY
02.12.11
01.02.12
14308
PRAYAGRAJ-BAREILLY EXP.
BAREILLY
PRAYAG
01.12.11
31.01.12
15011
LUCKNOW-CHANDIGARH EXP.
LUCKNOW JN.
CHANDIGARH
01.12.11
31.01.12
15012
LUCKNOW-CHANDIGARH EXP.
CHANDIGARH
LUKCNOW JN.
02.12.11
01.02.12
19771/19781
JAIPUR-AMIRTSAR EXP.
JAIPUR
AMRITSAR
01.12.11
31.01.12
19772/19782
JAIPUR-AMIRTSAR EXP.
AMRITSAR
JAIPUR
02.12.11
01.02.12
14211
INTERCITY EXP
AGRA CANTT.
NEW DELHI
02.12.11
01.02.12
14212
INTERCITY EXP
NEW DELHI
AGRA CANTT.
01.12.11
31.01.12
12460
INTERCITY EXP
AMRITSAR
NEW DELHI
01.12.11
31.01.12
14681
INTERCITY EXP
NEW DELHI
JALANDHAR CITY
01.12.11
31.01.12
14723
KALINDI EXP.
KANPUR
BHIWANI
01.12.11
31.01.12, TUE, THU, FRI, SUN

 

14724
KALINDI EXP.
BHIWANI
KANPUR CTL.
01.12.11
31.01.12, MON, WED,THU, SAT
TRAINS PARTIALLY CANCELLED DUE TO DENSE FOG
TRAIN NO.
TRAIN NAME
FROM
TO
REMARK
13112
LAL QUILA EXP.
DELHI JN.
KOLKATTA
Cancelled between Delhi Jn.-Kanpur Ctl. From 03.12.11 to 02.02.12
13111
LAL QUILA EXP.
KOLKATA
DELHI JN.
Cancelled between Kanpur Central-Delhi Jn. from 02.12.11 to 31.01.12

 

14217
UNCHAHAR EXP.
ALLAHABAD JN.
CHANDIGARH
Kanpur Cntl. -Chandigarh From 01.12.11 to 31.01.12

 

14218
UNCHAHAR EXP.
CHANDIGARH
ALLAHABAD JN.
Chandigarh-Kanpur Cntl. From 01.12.11 to 31.01.12

 

64953
MATHURA JN - NIZAMUDDIN PASS
MATHURA
NIZAMUDDIN
Cancelled between Palwal - Nizamuddin
13008
UDYAN ABHA EXP.
SRIGANGANAGAR
HOWRAH
Cancelled between Sriganganagar-Mugulsarai from 03.12.11 to 02.02.12

 

15003
CHAURI CHAURA EXP.
KANPUR ANWARGANJ
GORAKHPUR
Cancelled between Kanpur Anwarganj-Allahabad from 03.12.11 to 01.02.12

 

14711
INTERCITY EXP
HARIDWAR
SRIGANGANAGAR
Cancelled between Haridwar-Saharanpur from 2.12.11 . to 31.1.12

 

14712
INTERCITY EXP
SRIGANGANAGAR
HARIDWAR
Cancelled between Saharanpur-Haridwar from 2.12.11 to 31.1.12
15004
CHAURI CHAURA EXP.
GORAKHPUR
KANPUR ANWARGANJ
CANCELLED BETWEEN ALLAHABAD-KANPUR ANWARGANJ FROM 02.12.11 TO 31.01.12

 

54075/76
SHAHJAHANPUR - DELHI PASS
SHAHJHANPUR
DELHI
Cancelled between Shahjahanpur - Sitapur City
13007
UDYAN ABHA EXP.
HOWRAH
SRIGANGANAGAR
Cancelled between Mughusari-Sriganganagar from 01.12.11 to 31.01.12