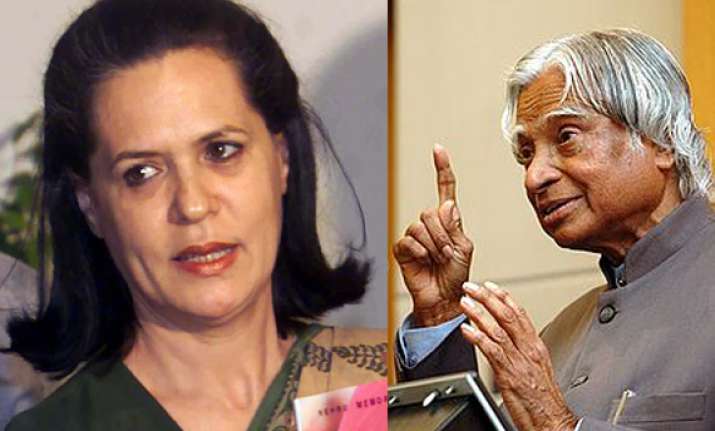 New Delhi, Jun 30: APJ Abdul Kalam has finally exploded the political myth that he was reluctant to appoint Congress president Sonia Gandhi as Prime Minister in May 2004 when he was the country's President. In his soon-to-be-released book — Turning Points, A Journey Through Challenges — Kalam reveals that if Gandhi wanted to become PM in 2004, he would have had "no option but to appoint her" says a Hindustan Times report.
Gandhi had decided not to become PM despite having been elected unanimously as leader of the Congress Parliamentary Party and the newly formed United Progressive Alliance soon after the poll results were declared on May 13, 2004.
The Left parties, which decided to extend outside support to the Congress-led government, had also endorsed her name for the top post. But many right-wing leaders had cited Gandhi's foreign origin to oppose her appointment as Prime Minister.
"There were many political leaders who came to meet me to request me not to succumb to any pressure and appoint Mrs Gandhi as the Prime Minister, a request that would not have been constitutionally tenable," Kalam has written.
"If she had made any claim for herself I would have had no option but to appoint her," Kalam has written on page 135 in the chapter titled Controversial Decisions of his book published by Harper Collins.
Kalam says he was surprised when on May 18, Gandhi named Manmohan Singh for the post.