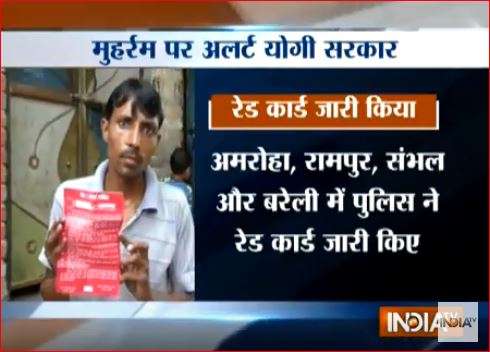 The governments of UP and Bihar have come up with novel methods to maintain peace in their respective states during Muharram. 
UP Police has marked over 4,000 people in Amroha, Sambhal, Rampur and Bareilly who are potential trouble-makers during the festival.
These people have been issued 'Red Card' on which Do's and Don'ts for them are clearly mentioned.
Those who have been issued these red cards belong to both Hindu and Muslim communities.
Similarly, Bihar government has also taken some important decisions to maintain peace during Muharram. 
The government has decided that No DJ would be allowed in any procession during Muharram.
For taking out any procession, the permission of the local administration has been made mandatory. 
At least, 12 districts of the state have been declared sensitive by the state government.
According to ADG of Bihar Police, at least 45,000 people have been identified who could create trouble. The number may go up in coming days and all such people will be asked to fill bonds.
Watch: UP Police issues red cards to 4,000 people