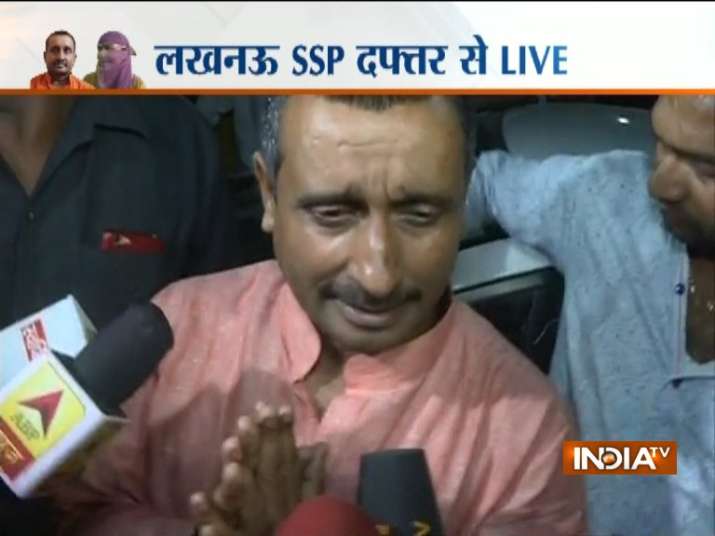 In a midnight drama, BJP MLA Kuldeep Sengar, who has been accused of raping a 16-year-old girl, visited Lucknow SSP office to prove that he was to absconding, even as sources said that he was there to surrender under pressure from Yogi government. 
Sengar said that certain news channels had declared him absconding form law and he came to SSP office and residence only to prove that he was not trying to evade the law. 
The SIT, probing the Unnao rape case, has submitted its investigation report to Yogi Adityanath as per the orders by the chief minister to the UP Home Department. 
Meanwhile, the 16-year-old rape victim threatened to commit suicide if action is not taken against the accused BJP MLA Kuldeep Singh Sengar and his brother Atul Singh Sengar. 
Also read | Unnao rape victim alleges confinement by cops, wife of accused BJP MLA wants narco test
As it Happened:
11:52 pm: Sengar, who had arrived at Lucknow SSP's house with a cavalcade of cars, leaves.
11:50 pm: Sengar has refuted claims that he was there to surrender. Instead, he claims, he came to SSP residence to prove certain news channels that he was absconding and was trying to evade the law.
11:43 pm: "Don't make me a rape accused, will go wherever you say. I am not an accused. I am here to respect public,  law and media. I am not here because anyone told me to but because news channels had alleged that I am absconding," Sengar outside SSP office.
11:42 pm: SSP office/residence closes doors, Sengar refused entry.
11:38 pm: Unnao rape accused BJP MLA reaches Lucknow SSP office to surrender
11:21 pm: Even if Sengar surrenders, police cannot file an FIR against him unless the court decides on suo motto cognizance on the matter, as the current police complaint filed by the victim has not named him. 
11:19 pm: The accused MLA has claimed that he is surrendering before police to quell rumours that he is avoiding the law. However, the reports on the ground claim that he is under pressure from the Yogi government. According to sources the UP government has asked him to surrender after the SIT report.
11:00 pm: According to latest updates, the accused BJP MLA Kuldeep Singh Sengar is likely to surrender within 10-15 minutes before UP police. The move comes hours after SIT submitted its report in front of the UP government.
08:25 pm: No one is greater than Amit Shah in BJP and that's why I thought I should inform him what has disgraced our party. This is the failure of UP govt because we fought for women's respect but risked it just for saving the image of an influential person: Deepti Bhardwaj, BJP on Unnao rape case
08:10 pm: I am speaking from a psychological point of view, no one can rape a mother of 3 children. It is not possible, this is a conspiracy against him(Kuldeep Sengar).Yes maybe her father was thrashed by some people but I refuse to believe rape charge: BJP Bairia MLA Surendra Singh
08:00 pm: Lucknow zone ADG submits the report of SIT probe to Yogi Adityanath government.
06:10 pm: Meanwhile, DIG Pravin Kumar has said that the police will initiate further action in the case after preliminary report is tabled before the DGP. SIT visited the purported site of the crime and recorded statements of members of rape survivors family as well as accused MLA's kin.
06:08 pm: Accused MLA Kuldeep Singh Senger's wife Sangeeta says she considers the rape survivor as her daughter.
05:20 pm: Kuldeep's wife Sangeeta says her husband was a victim of "political conspiracy" and was innocent of the crime he is supposed to have committed.
01:46 pm: The Allahabad High Court today ordered that the body of the Unnao gangrape victim's father should not be cremated, if already not done so. 
01:41 pm: The postmortem report has confirmed that rape victim's father died because of being beaten brutally, due to which his intestine was damaged. 
01:23 pm: Kuldeep Sengar's supporters are protesting in Unnao. They are demanding justice for the accused BJP MLA. 
12:58 pm: The family will be provided full security. They have a relative in Delhi, now it is their decision if they want to live here in Unnao or in Delhi, says ADG Lucknow zone Rajeev Krishna 
12:31 pm: We have come here to investigate. I will send the interim report to the state govt by this evening. All the angles are being investigated. There is no pressure on the SIT. It is working independently: ADG Lucknow zone Rajeev Krishna
12:23 pm: SIT carrying unbiased investigation in the case, is not under any pressure: ADG Lucknow zone Rajeev Krishna
11:57 am: The Allahabad HC has asked the UP government to submit its report  
11:56 am: Allahabad High Court takes suo-moto cognizance of the matter, to be heard  on 12 April. Court also appointed an amicus curiae in the case.
11:48 am: ADG Lucknow zone Rajeev Krishna, heading the SIT, is talking to the rape victim's family in Unnao.
11:47 am: She alleged prison-like conditions as she talked about being confined to a hotel room, "without a phone or water and guards at every corner".
11:46 am: The rape victim said she will commit suicide if action is not taken against Kuldeep Singh Sengar and his brother Atul. 
11:45 am: SIT has been directed to submit its investigation report to CM Yogi Adityanath by evening. 
11:30 am: The Supreme Court today agreed to hear a plea demanding CBI probe and compensation to victim's family in the Unnao rape case. 
10:05 am: Kuldeep's wife Sangeeta Sengar claimed political motive behind the case. "There's political motive behind this. Make my husband & girl (rape victim) undergo narco test. My daughters are traumatised. We're being mentally harassed. No evidence has been presented yet, still he's being labelled as rapist," she said.   
10:00 am: Kuldeep Singh Sengar's wife met DGP OP Singh in Lucknow and said that she has "come to plead for justice for her husband".
What happened in the case so far
1. An SIT has been formed to probe the Unnao rape case. Speaking at a press conference in Lucknow after the MLA's brother was arrested in Unnao, ADG (Law and Order) Anand Kumar said, "The SIT will go into the entire gamut of issues involved in the incident." Kumar assured that action would be taken regarding the death of the victim's father in police custody as well.
The SIT has been told to submit its report directly to Chief Minister Yogi Adityanath by Wendesday evening.
2. On Tuesday, a new audio clip emerged which allegedly confirms that BJP MLA Kuldeep Singh Sengar tried to cajole the victim's family to drop the case. 
The audio clip reveals Sengar's conversation with the victim's uncle. During the conversation, Sengar asks victim's uncle to meet him at his residence and tell the family to forget about the matter. "Tum mere chhote bhai, yahi baat maine tumse kahi thi na. Aap humare pass aiye, aur ghare mein sab sadsyon se keh diijiye, jo hua woh khatam (You are like my younger brother. You come to my place and tell everyone in the family that whatever happened is now over)."
3. Earlier, new visuals had emerged which confirmed that the rape victim's father, who was arrested by Unna Police, was brutally thrashed allegedly by BJP MLA's brother Atul Singh Sengar and his aides before being sent to judicial custody. 
4. Amid the uproar over the death of rape victim's father, the police on Tuesday arrested Atul Singh Sengar in connection with the death case of rape victim's father. All five accused, including BJP MLA Sengar's brother, were sent to district jail in connection with the death of the Unnao rape victim's father
5. A day after the victim tried to set herself on fire outside Chief Minister Adityanath's residence, alleging police inaction in her gang rape by BJP MLA Sengar, her father died in police custody on Monday. Instead of being taken to the hospital, the victim was taken into judicial custody. 
Adityanath termed the incident unfortunate and announced that a top-ranking police official will probe the matter. Those behind the incident will not be spared at any cost, he added.
6. Earlier, the incident triggered a political storm and public outrage in the state, forcing the police to suspended six officials, including a station house officer (SHO) and five constables. A magisterial probe has also been ordered by the district administration.