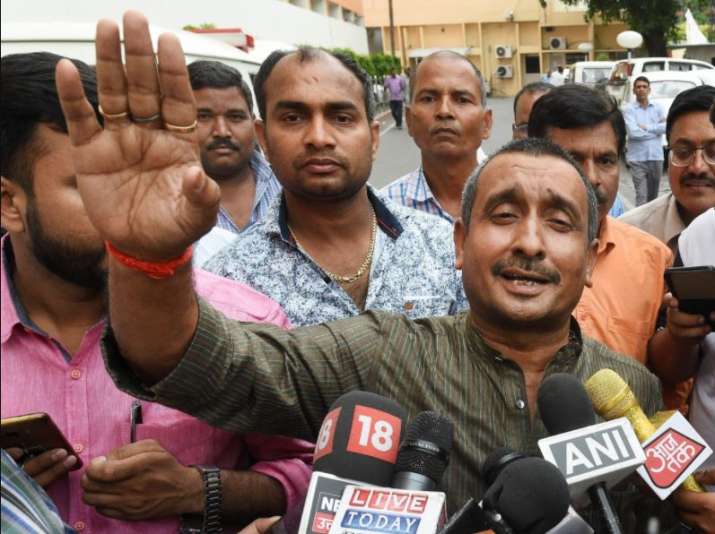 The Allahabad High Court today directed the CBI to arrest BJP MLA Kuldeep Singh Sengar, accused in the Unnao rape case. 
A bench comprising Chief Justice DB Bhosale and Justice Suneet Kumar gave the direction to the agency after the counsel for the Uttar Pradesh government informed it that Sengar has been detained for interrogation and not arrested yet. 
The court directed the CBI to carry out investigation strictly in accordance with law and to consider filing an application for cancellation of bail granted to other accused in the case. 
This comes a day after an FIR was registered against the Bharatiya Janata Party (BJP) MLA under sections 363 (kidnapping), 366 (abduction of woman), 376 (rape), 506 (criminal intimidation) of the Indian Penal Code (IPC) and Protection of Children from Sexual Offences (POCSO) Act, and the case was handed over to the CBI.
As it happened: 
# After around 16 hours of questioning and Allahabad HC's order of immediate arrest, the CBI arrested accused BJP MLA Kuldeep Singh Sengar.
# 
Central Bureau of Investigation (CBI) continues interrogation of BJP MLA Kuldeep Sengar at CBI Zonal office in Lucknow; he is being questioned since past 15 hours #UnnaoRapeCase pic.twitter.com/jjUBRFKylu

— ANI UP (@ANINewsUP) April 13, 2018
# 
Unnao: CBI team reaches district hospital to investigate #Unnao rape case. #UttarPradesh pic.twitter.com/Sp6nqPt6Rm

— ANI UP (@ANINewsUP) April 13, 2018
# 
Aligarh: Students of Aligarh Muslim University protest over #Kathua and #Unnao rape cases. pic.twitter.com/h1789aafO6

— ANI UP (@ANINewsUP) April 13, 2018
# Allahabad High Court has directed the CBI to arrest accused BJP MLA Kuldeep Singh Sengar in connection with the Unnao rape case. 
# Union Minister for Information and Broadcasting Smriti Irani urged that there should be no victim shaming. She said, "Some people want to politicise issues to grab power. But as a woman I request that there should be no victim shaming."
#
Rahul Gandhi earlier stood in support of Gayatri Prasad Prajapati. It's just his compulsion to take a stand this time but Amethi knows the truth. I have faith that justice will be provided: Smriti Irani on Congress' candlelight march on #Unnao & #Kathua rape cases, y'day #Amethi pic.twitter.com/cEzCGqnD9i

— ANI UP (@ANINewsUP) April 13, 2018
# 
Aap log(media) chaahte hain ki 2 minute mein karyavahi ho jaye, action is being taken by state govts. Also, we are contemplating an amendment in law which awards death penalty to rapists of minors below 12 years of age: Maneka Gandhi,Union Minister #UnnaoCase #KathuaCase pic.twitter.com/o0Xwtuo0f5

— ANI (@ANI) April 13, 2018
#Investigation has been handed over to the CBI. I believe the CBI would have arrested the MLA also. Our government will not compromise on this, no matter how influential the accused is, he will not be spared, says UP Chief Minister Yogi Adityanath 
#I want strict action should be taken against him and he should be given severe punishment, says rape survivor on CBI detaining BJP MLA Kuldeep Singh Sengar
#After detention, the Central Bureau of Investigation (CBI) officials grilled Unnao rape accused Kuldeep Sengar for over two hours.
#The CBI has registered three separate cases related to the alleged rape of a woman by a BJP MLA and his brother late in the night, officials said.
#Congress chief Rahul Gandhi led a midnight candlelight march to the India Gate to protest the Unnao minor rape cases with the party leaders alleging that the daughters of the country were not safe in the Modi regime. 
#The Allahabad High Court on Thursday came down hard on the Uttar Pradesh administration questioning the delay in arresting Kuldeep Senger.
#The victim had attempted suicide outside the residence of Chief Minister Yogi Adityanath triggering a massive political row over women's safety in Uttar Pradesh. 
#The state police had arrested her father who died in judicial custody with autopsy suggesting several injuries on his body.