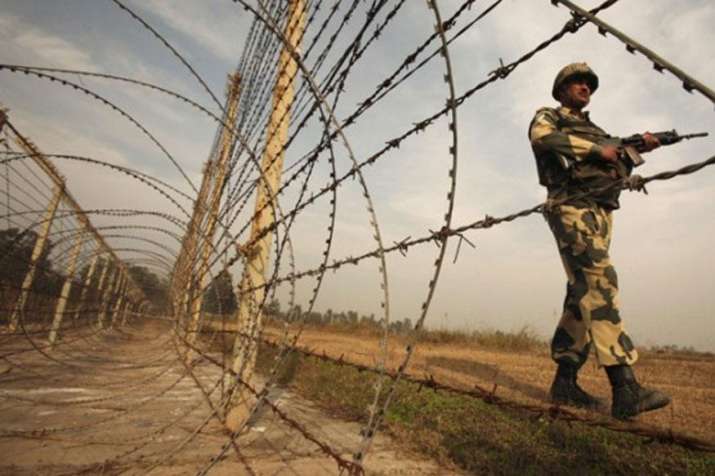 A man along with two Pakistani sim cards and a map was arrested by the security forces in Samba sector of Jammu and Kashmir, officials said today.
The person has been identified as Bodh Raj.
"Based on information received from Military Intelligence on involvement of one Bodh Raj of village Changiia of Jammu district for his espionage activities and passing on vital information regarding deployment and movement of security forces and Army to Pakistan, a special search operation was launched in Ramgarh sector of Samba," SSP, Samba, Joginder Singh said.
During the search operation, Raj was found roaming in suspicious circumstances in Jerda village close to the  International Border (IB) and tried to escape on observing the  movement of the police party, the SSP said.
"Police chased him and later he was arrested," he said.
Two Pakistani SIM cards, one map showing deployment of forces, two Indian made mobile phones and one memory card besides Rs 1711 were recovered from his possession, the SSP said.
Meanwhile, security forces have also arrested two Jaish-e-Mohammad terrorists from Baramulla area and recovered one AK-47 and one pistol from them.
J&K: Two Jaish e Mohammad terrorists arrested in Baramulla, ammunition including one AK-47 and one pistol seized

— ANI (@ANI) October 22, 2016
Earlier on Friday night, Pakistan rangers again violated ceasefire along the International Border (IB) in the RS Pura sector of Jammu district by resorting to small arms.
"Small arms bursts are beings fired by Pakistan Rangers in Abdullian village in the Suchetgarh sector in RS Pura," Deputy  Commissioner Jammu Simrandeep Singh said.
Pakistani spy Bodh Raj arrested in Samba sector(J&K), 2 Pak SIM cards and map showing deployment of forces seized

— ANI (@ANI) October 22, 2016
He said people have been advised to stay indoors and so far no relief camps have been set up and the situation will be monitored for the next 18 hours.
A BSF officer said the jawans were giving befitting reply to Pakistan Rangers.
The latest ceasefire violations came hours after the BSF  claimed to have killed seven Pakistan Rangers and one  terrorist in the "retaliatory fire" in the Kathua sector on  the international border.  
Pakistan Rangers, the border force of Pakistan, resorted to sniper attacks at Indian posts at Hira Nagar in Kathua at around 9.35 AM, BSF said.
The Indian border guarding force launched an aggressive offensive against the Pakistani firing, BSF said in a release,  adding seven Rangers and a terrorist were shot dead in the retaliatory firing.
Seeking to suggest that the killings had been corroborated by Pakistani media, the BSF said "source input" claimed that a media organisation in that country was running a news item about death of five Rangers.
The strong response by BSF came after one of Constables Gurnam Singh was injured in a sniper fire attack by Pakistani Rangers this morning in the same area.
Singh, whose condition is considered to be critical, was evacuated with the cover fire to Government Medical College in Jammu.
The firing from Pakistan was effectively retaliated and that has claimed the casualties of Pakistani forces, the release said.
(With PTI inputs)