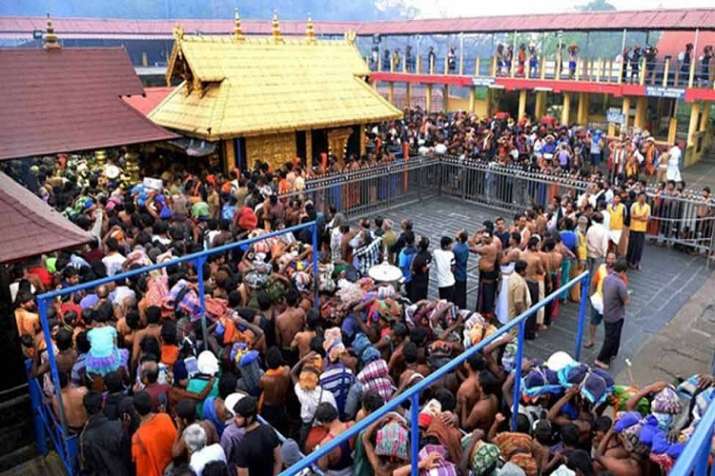 The issue of entry of women inside Sabarimala temple in Kerala is now taking a serious turn as several organisations and political parties have come out in open against the Supreme Court's judgement. Tension has gripped the region as the Kerala government has said that it will ensure adherence to the apex court's verdict.
The temple's door are set to open on October 18 for the routine monthly puja. 
The Kerala unit of Shiv Sena has threatened to stage mass suicides if women in 10-50 age group are allowed to enter the Sabarimala temple.
P Aji, a senior Shiv Sena leader, that their "suicide squads" comprising men and women above 50 are ready for the supreme sacrifice.
"Our members will be stationed at various places in and around the (Sabarimala) temple and if any woman not supposed to enter the temple is granted get access, then their suicide squad members will take their lives," warned Aji.
"We want the temple tradition and culture to be protected and that's our only demand. Hundreds of our activists will reach the temple town on October 17 and guard all entry points to the famed temple," added Aji.
The Shiv Sena's threat comes hours after gender equality activist Trupti Desai on Saturday said that she is determined to visit the temple shortly.
On September 28, the Supreme Court delivered its verdict against the age-old tradition that banned the entry of women of menstruating age between 10 and 50 years into the Sabarimala temple.
In a related development, the police in Kollam district on Saturday registered a case against actor Kollam Thulasi for his statement at a public meeting of the Bharatiya Janata Party (BJP)-led NDA campaign against the apex court ruling.
"Women coming to Sabarimala temple should be ripped in half and one half should be thrown to Delhi and the other half to the Office of Chief Minister Vijayan," Kollam Thulasi had said. 
(With inputs of IANS)