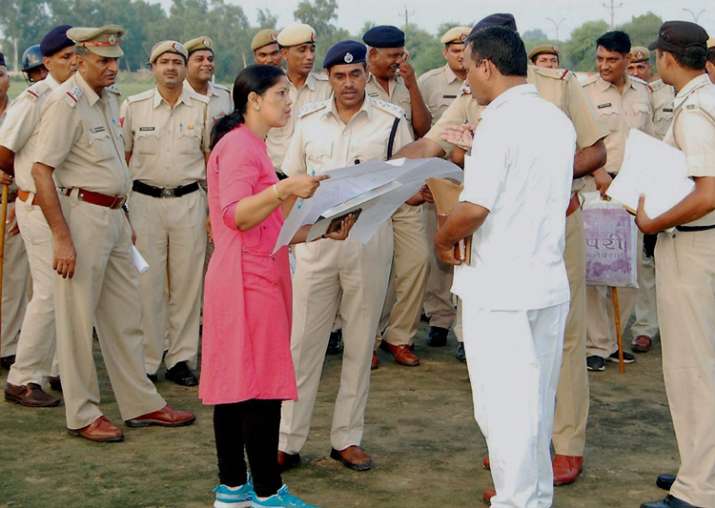 The first day of search of the Dera Sacha Sauda headquarters near Haryana's Sirsa ended late evening with officials involved in the sanitation seizing a few computers, Toyota Lexus luxury SUV and some currency notes (old and new currency) amounting to a few thousand rupees. Officials said that five children were also found inside the Dera premises in the search which will continue on Saturday.
The authorities said that they have also seized hard discs, at least 1500 pairs of shoes and over 1000 stylish clothes during the search which was this morning under the supervision of retired District and Sessions Judge AKS Pawar, deputy director Satish Mehra, Haryana government, said. 
Officials, however, involved in the search remained tight-lipped about the recoveries made inside. But people privy to the search said that a couple of rooms in one of the buildings had been sealed and that the search operation could take a long time.
JCB machines, locksmiths, forensic experts and dog squads were called in to assist a comprehensive search operation launched by security agencies and district authorities at the Dera premises. Internet services in Sirsa district were suspended by local authorities on Friday.
Senior district administration and police officers, along with para-military forces and Haryana Police, were involved in the videographed operation around the sprawling 700-acre campus. Duty magistrates were appointed for various zones of the Dera. Officials from police, Revenue, Health, Education, Tourism and other departments also participated. Bomb disposal squads and commandos were also deployed inside as a preventive measure.
All roads leading to the headquarters from Sirsa and nearby places were sealed.
The Dera is spread over two campuses, 600 acres and over 100 acres respectively, about eight km from Sirsa and 260 km from Chandigarh. It houses a stadium, a hospital, educational institutions, luxury resort, bungalows and markets. Hundreds of people and sect followers permanently live and work in the mini-township. 
The premises, where the sect chief lived, known as the "gufa" (cave), is itself spread over an area of nearly 100 acres. It is said to have ultra-luxury facilities. The campus has palatial bungalows of his other family members, none of whom are in the premises since August 25, when the sect chief was convicted of rape and sent to jail.
Security was tightened around the Dera headquarters since Wednesday following the approval granted by the Punjab and Haryana High Court to the state government to "search and sanitise" the premises.
Dera administration chairperson Vipassana, who is a close aide of rape convict sect head Ram Rahim, had issued an appeal to sect followers urging them to cooperate in the search operation.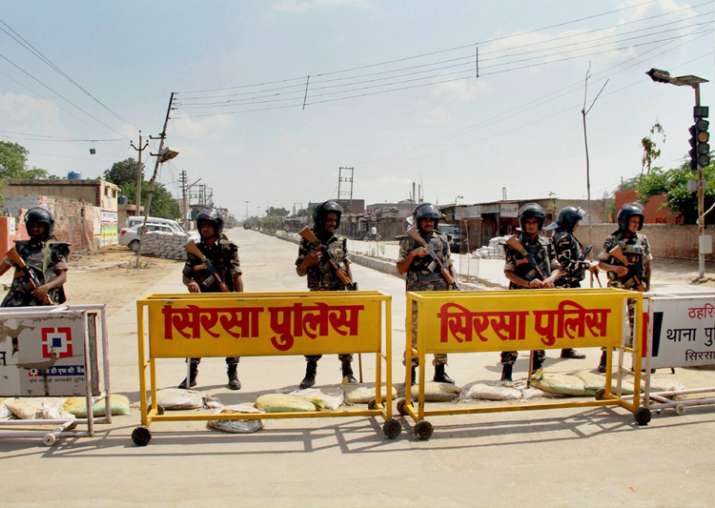 Security forces stand guard at entrance to Dera Sacha Sauda HQs in Sirsa
Hours before the search operation began, the sect's mouthpiece "Sach Kahoon" on Thursday admitted that human remains were buried inside the premises. The Dera newspaper, while defending the action of the Dera management in burying the human remains, said this was done as the sect chief encouraged followers to donate the remains to the sect for burial and prevent these from being immersed in rivers, causing pollution.
Ram Rahim was convicted on two counts of rape of two female disciples in 1999 by a CBI special court in Panchkula on August 25. He was later sentenced to 20 years of rigorous imprisonment and is lodged in the District Jail at Sunaria near Rohtak. His conviction led to violence in Panchkula and Sirsa in Haryana, leaving 38 people dead and 264 injured. Isolated incidents of violence were also reported from Delhi and several other places in Punjab.