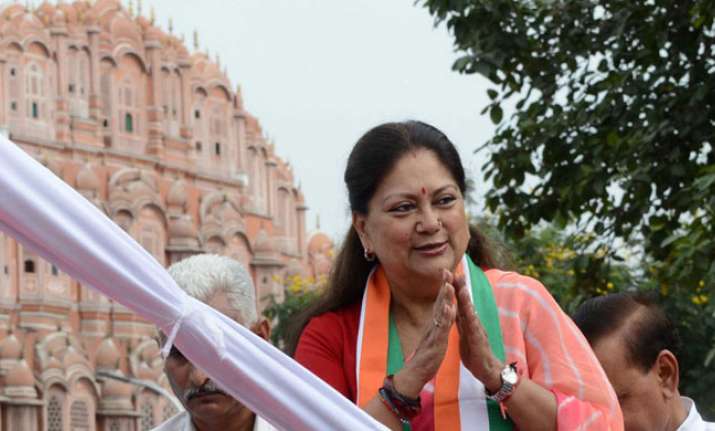 In a move that is expected to create controversy, the Vasundhara Raje government in Rajasthan has passed an ordinance which seeks to protect both serving and former judges, magistrates and public servants in the state from being investigated for offences relating to their official duties.
The BJP government is likely to table a bill to amend criminal laws which will protect officls from being investigated for on-duty action without its prior sanction. 
Not only this, the Criminal Laws (Rajasthan Amendment) Ordinance, 2017, promulgated on September 7, also seeks to bar the media from reporting on accusations till the sanction to proceed with the probe is obtained. 
In the ordinance amendments have mainly been made in Criminal Procedure code, 1973 and Indian Penal Code, 1980. It has certain prohibitory provisions to restrain the courts to order an investigation against a person, who is or was a judge or magistrate or a public servant, in respect of the act done by them during the discharge of their official duties. Besides, no investigation will be conducted by any investigating agency against the persons specified without there being any prosecution sanction.
"No magistrate shall order an investigation nor will any investigation be conducted against a person, who is or was a judge or a magistrate or a public servant," reads the ordinance which provides 180 days immunity to the officers. 
If there is no decision on the sanction request post the stipulated time period, it will automatically mean that sanction has been granted. 
The ordinance amends the Criminal Code of Procedure, 1973 and also seeks curb on publishing and printing or publicising in any case the name, address, photograph, family details of a judge or magistrate or a public servant against whom proceedings under this section is pending, until the sanction has been deemed to have been issued.
Violating the clause would call for two years imprisonment. 
The government brought the ordinance to this effect as the state assembly was not in session in early September. It plans to bring a bill in the upcoming assembly session starting from October 23.
(With agencies)