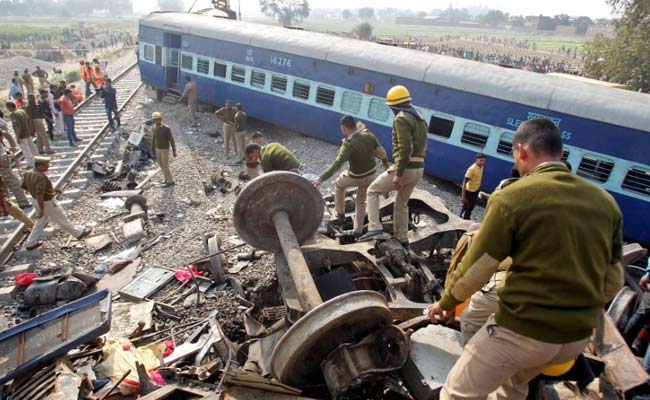 A major train accident was averted on Wednesday when villagers informed the railway authorities that the fishplates and joint vaults of the rail tracks near Mansi in Bihar were missing. This was just before the New Delhi-Dibrugarh Rajdhani Express (122356) was to pass. 
The averted mishap was the 18th incident of 'sabotage' in less than 40 days of 2017, which have raised serious concerns over the safety of train operations. 
According to a Times of India report, vigilant railway staff have in recent days foiled several sabotage attempts and averted many accidents. Incidents reported include placing boulders, concrete slabs, stone slabs or rail pieces on tracks across the country. 
Worried about the "unusual jump" in "sabotage" cases, railway authorities have issued directives to all employees and the Railway Protection Force (RPF) to remain alert and intensify patrolling. 
Officials confirm that cases of man-made obstructions, tampering of track and removing fish plates have been detected by rail staff in recent days. 
On Wednesday, Railway Minister Suresh Prabhu, while speaking in Lok Sabha, also expressed concern over "unusual" activities reported in the past few days, alleging that attempts were made to damage rail tracks and carry out explosions. 
He said that among the 18 sabotage attempts, there were seven "blast attempts" and three cases of attempted sabotage. Prabhu also said that some incidents were averted due to the alertness of railway personnel. 
On January 23, Prabhu had written to Home Minister Rajnath Singh seeking a detailed probe by the NIA into the recent flurry of train mishaps and listed six incidents of "possibility of criminal interference by outsiders". 
At least 39 people were killed after nine coaches of Hirakhand Express derailed near Kuneru station in Andhra Pradesh on January 21.
On Tuesday, the prime suspect in Kanpur train accident last year which killed as may as 150 people, was arrested from Kathmandu's Tribhuvan International Airport after being deported from Dubai.
The suspect, identified as Samshul Hoda, is said to be an agent of Pakistan's spy agency Inter-Services Intelligence (ISI). Based in Dubal, he had played key role in organising the crime. He is also a known operative of fake Indian currency and has a network in Nepal.