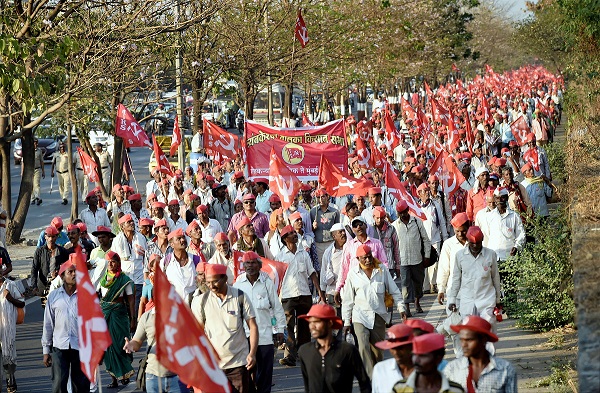 Braving scorching heat, thousands of farmers who embarked on a 'Long March' from Nashik on March 6, reached Mumbai on Sunday pressing for various demands including complete loan waiver and fair remuneration. 
The protesters will halt at the Somaiya ground in suburban Chunabhatti on the night of March 11, and set out for Vidhan Bhavan (the state Legislative Complex) in south Mumbai, where Budget session is underway, on March 12. 
"We will gherao (lay siege to) the Vidhan Bhavan tomorrow to demand a complete loan waiver, fair price for farm produce, implementation of the Swaminathan Commission's recommendations, compensation for hailstorm-affected farmers among other things," Kisan Gujar, president of the state council of AIKS, said. 
"Today, our number is over 35,000. Over 20,000 farmers from other parts of the state will join tomorrow," he said, adding that the farmers were also protesting against land acquisition for projects such as high-speed railway and super-highways. 
"Though we have been approached by the government officials advising us not to stay near the Vidhan Bhavan for long, everything will depend on how the government deals with our demands," Gujar told PTI. 
From the government's side, Water Resources Minister Girish Mahajan, who is also guardian minister for Nashik district, met farmers' leaders in Mulund as the March entered Mumbai, and assured that most of their demands will be met. 
"The Chief Minister (Devendra Fadnavis) has sent me to meet you. Most of your demands will be met. We will take a delegation to the chief minister," Mahajan said, addressing the protesters. 
Senior BJP leader and Finance Minister Sudhir Mungantiwar also assured that the chief minister will meet the protesters' delegation, and blamed "apathetic" approach of past governments for the farmers' woes. 
"Our government is committed to address all the grievances of farmers, which have accumulated due to the apathetic approach of the last several years...We are very sensitive towards farmers and two ministers (Tribal Development Minister Vishnu Savara and Mahajan) have already been asked to look into their demands," Mungantiwar told PTI. 
Ajit Nawale of the AIKS, however, dismissed the overture. "Days of living on assurances have passed. Unless the government gives us something concrete, commits itself in writing, we will march towards the Vidhan Bhavan tomorrow," he said. 
Senior Shiv Sena leader and cabinet minister Eknath Shinde and Yuva Sena (Shiv Sena's youth wing) chief Aditya Thackeray also greeted the protesters in suburban Vikhroli. 
Thackeray said the Shiv Sena stood "shoulder to shoulder" with farmers in their struggle.
It was wrong to say that farmers were demanding loan waiver, as they are not criminals that they should need a 'waiver', Aditya said, adding that "farmers are fighting for 'freedom from debt'." 
As so many farmers have marched to Mumbai despite the government's grand loan waiver, Sena leaders have demanded to see the list of actual beneficiaries of the scheme, he said. 
Opposition Congress, NCP, Raj Thackeray-led Maharashtra Navnirman Sena (MNS) and AAP, as well as ruling ally Shiv Sena have extended support to the farmers' march. 
Patidar leader from Gujarat Nikhil Sawani, who joined the march, said his community supported the protesters. 
As the march reached suburban Vikhroli, the phalanx of farmers -- comprising both men and women -- extended for almost three kilometres.
 
Joint Commissioner of Police (Law and Order) Deven Bharti said that adequate security arrangement has been put in place. 
After the state-wide rallies of the Maratha community seeking reservations in 2016, farmers' 'strike' of the last year and the Dalit protests over the Bhima-Koregaon violence in January, the present agitation could be another big challenge for the BJP in the state, which will face Assembly elections next year, if not earlier. 
The Economic Survey of Maharashtra, tabled last week, projected a negative agriculture growth at 8.3 per cent for financial year 2017-18 on account of decreased production of food-grains, pulses and cotton crops. Of late farmers have also been hit by hailstorms and bollworm attack. 
(With inputs from PTI)