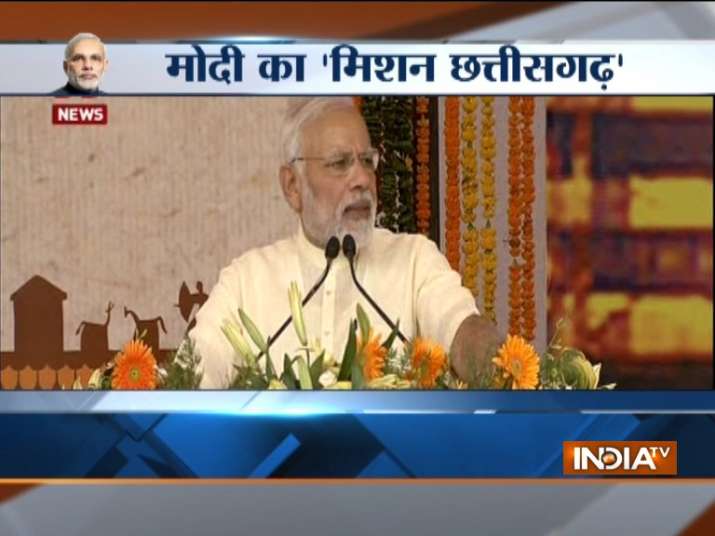 In an apparent message to Naxals of Chhattisgarh, Prime Minister Narendra Modi on Thursday said that development is the only answer to every form of violence and conspiracy.
Addressing a rally in Chhattisgarh's Bhilai, PM Modi said that his government was working on creating an "atmosphere of trust" through developmental works, adding the trust emanating from development ends violence of any type.
"I think development is the only answer to violence and conspiracy of any sort. The trust emanating from development ends violence of any type," PM Modi said.
The prime minister's message to the Naxals assumes significance as they have been indulging in a violent campaign in Chhattisgarh, which goes to polls later this year. The state has been reeling under Naxal insurgency and has witnessed large scale violence by the ultras.  
Elaborating on his government's efforts to create "an atmosphere of trust", the prime minister said that his regime has ensured that a part of the earnings from the natural resources like minerals would be spent on the welfare of locals.
He further added that in accordance with his government's policy, Chhattisgarh has received Rs 3000 crore as additional funds, which would be spent on hospitals, schools, roads and toilets.
The prime minister further said that the central government was working towards increasing the income of tribals and those living in backward areas. 
Earlier in the day, the prime minister dedicated various development projects in Chhattisgarh to the people of the state.
Launching the air service between Jagdalpur and Raipur, PM Modi said that his dream was to see anyone wearing a 'hawai chappa' flying in a 'hawai jahaz' (plane).
  
He also recalled that this was the objective of the 'Udaan' scheme of the central government which aims at connecting small cities and towns by air.
Watch Video: PM Modi says development is the only answer to every form of violence