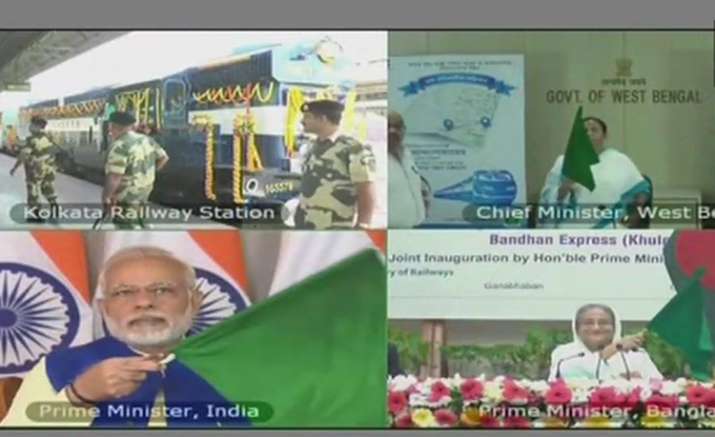 Prime Minister Narendra Modi and his Bangladeshi counterpart Sheikh Hasina on Thursday jointly launched through video-conferencing a new passenger train service between Kolkata and Bangladesh's southwestern industrial city of Khulna.
Both leaders were joined by West Bengal Chief Minister Mamata Banerjee.
The train has been named as 'Bandhan Express' and it will operate on the 177-km-long Khulna-Kolkata route. 
The cross-country service would start ferrying passengers from November 16, a Bangladesh railway spokesman told PTI on Wednesday. 
As per the schedule, it would leave Kolkata at 11 am (Indian time) and reach Khulna after four-and-a-half-hour-long journey. 
They also launched two railway bridges, built with Indian line of credit, and an "end-to-end" immigration facility to ease Dhaka-Kolkata 'Maitree' train services. 
The two new bridges have been built on the Bhairab and the Titas rivers for the second track for simultaneous operation of up and down train services from Dhaka to southeastern Chittagong and northeastern Sylhet. 
The 984-metre-long and seven-metre-wide Bhairab Railway Bridge was built at a cost of 567 crore Taka while the 218-metre-long and 70-metre-wide new Titas Bridge has been built at a cost of 161 crore Taka by two Indian companies.