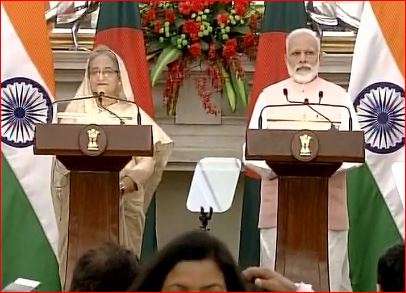 Prime Minister Narendra Modi today committed $500 million credit for the defence procurement of Bangladesh.
PM Modi also said that India always stood for the prosperity of Bangladesh and fruits of cooperation must reach to the people of the two countries.
" We are happy to announce a line of credit worth $500 million for Bangladesh's defence procurement, which will be guided by Bangladesh needs," PM Modi said in a joint address to the media with visiting Bangladesh Prime Minister Sheikh Hasina.
"India has always stood for the prosperity of Bangladesh and its people. We are a long-standing and trusted development partner for Bangladesh. India and Bangladesh are also determined that the fruits of our cooperation must reach our people," he added. 
Modi said India wanted to build cooperation in new areas with Bangladesh "especially in some high-technology sectors which would include working in the fields of electronics, IT, cyber security, space explorations and civil nuclear energy".
He announced a new concession line of credit of $4.5 billion for the implementation of core projects of Bangladesh that "brings our resources allocation for Bangladesh to more than $8 billion over more than past six years".
India committed to Teesta issue: PM Modi
Prime Minister Narendra Modi also assured Bangladesh of an "early solution" to the emotive Teesta water sharing issue, a pact on which has remained elusive for nearly seven years. 
The two sides inked nearly two dozen pacts in key areas of defence and civil nuclear cooperation after "productive" talks between Modi and Bangladesh Prime Minister Sheikh Hasina here. 
Stressing that the deal was "important" for India-Bangladesh ties, Modi assured India's commitment to the issue. 
He said an "early solution can and will be found" to the Teesta water sharing issue. 
The Teesta deal was set to be signed during the then Prime Minister Manmohan Singh's visit to Bangladesh in September, 2011 but was postponed at the last minute due to objections by West Benagl Chief Minister Banerjee. 
Teesta water is crucial for Bangladesh especially in the leanest period from December to March when the water flow often temporarily comes down to less than 1,000 cusecs from 5,000 cusecs.
(With agency inputs)