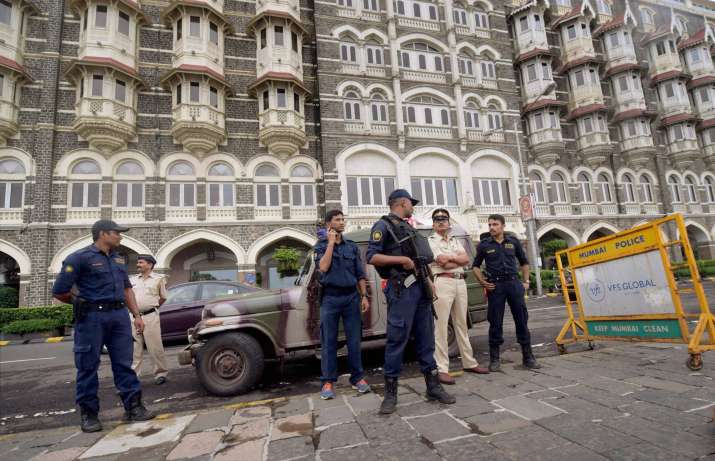 Following a high alert after a group of men were spotted moving suspiciously near a naval base along Maharashtra coast, teams of elite anti-terror commando force NSG have been deployed in three locations in Mumbai and another team has been kept ready in Delhi to be flown if required.
A high alert was issued in Mumbai and its surrounding areas on Thursday after school kids said they spotted five suspicious-looking men carrying arms near a naval base in Uran in Navi Mumbai. 
Teams of National Security Guard, drawn from its Mumbai hub, pre-positioned at three locations in Mumbai and another team is on alert at NSG base in IGI airport in Delhi, official sources said. 
Precautionary action taken in Mumbai to cut down reaction time in case of any emergency situation, sources said. 
A high alert has already been sounded along the Maharashtra coast after the group of men were spotted moving suspiciously near a naval base at Uran in Raigad district, leading to multi-agency search operations by multiple agencies. 
Mumbai Police and security forces were put on high alert and a combing operation in the area was underway. Police have issued nakabanbdi and are reviewing the situation.  
NSG, state police's specialised commandos Force One and ATS being roped in for the search and security, highly placed police sources said.  
The Navy pressed its choppers for aerial surveillance and heightened patrolling in the sea by its vessels and high-speed boats. 
"The suspects have been spotted in burqas. This is being investigated. Combing operation are on. Request people not to panic and believe in rumours, they should support probe. The police is carrying out operations and is fully capable of handling the situation," Maharashtra MoS Home Deepak Kesarkar told India TV.  
The Western Naval Command (WNC) issued a "highest state of alert" along the Mumbai, Navi Mumbai, Thane and Raigad coasts where several sensitive establishments and assets are located.  The Navy, Maharastra anti-terror squad (ATS) and other security agencies were also put on alert. 
The fishing town of Uran in Raigad district is located across the eastern water front of the financial capital. The base located close to the town also houses units of MARCOS, the Navy's elite strike force. 
Western India's biggest naval base, the Bhabha Atomic Research Centre, fertiliser plants, refineries, power plants and the country's largest container port, JNPT are located in close vicinity of Uran. 
Coastal security has been a top priority after the 26/11 attacks, in which multiple locations in Mumbai were targeted by Pakistani terrorists who landed using the sea route. 
A temporary control room has been established at Mumbai Police headquarters for better coordination between the agencies involved in the operation. Senior officers of the Maharashtra government are monitoring the situation from the control room. 
Navy, ATS, local police, Air Force, NIA and Marine commandos MARCOS are involved in the operation. 
"Navy is at a high state of alert after getting this input i.e., regarding suspicious activity reported by some school children in Karanja near Mumbai," a statement by the Navy said. 
"As per the reports, five to six persons were sighted in Pathan suits and appeared to be carrying weapons and backpacks," Naval spokesman Cdr Rahul Sinha said in a statement. 
Some reports said they were in military uniform. 
Some children from Uran Education Society's school first spotted the suspects, and their teacher informed the police, the police said, adding none of them have been traced. 
The coastline is guarded by a three-tier network which starts with the local police (with its coastal police stations) closest to the land, followed by the Union Home Ministry-led Coast Guard while the Indian Navy patrols the high seas. 
The alert comes after an attack on army base in Jammu and Kashmir's Uri that led to the death of 18 soldiers.  
Mumbai saw a major terror attack in 2008 when heavily armed militants of the Lashkar-e-Taiba had stormed the city and killed over 150 people.  
Meanwhile the state government has launched a helpline number for people to report any suspicious movement or information regarding the suspects. The numbers are:  022-27222366 and 100.