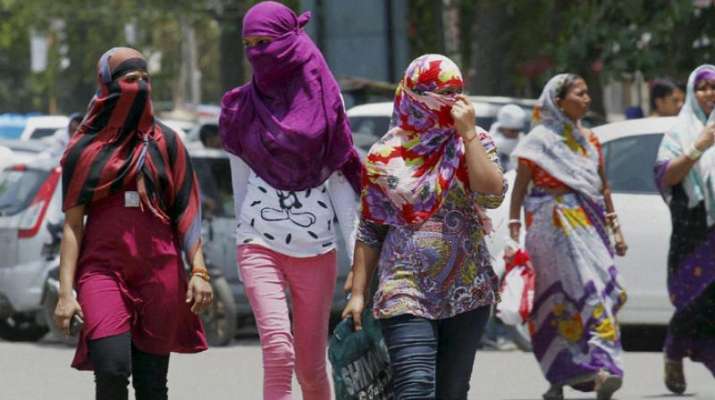 It's tough time for those living in northern and western parts of the country. States like Delhi, Madhya Pradesh, Rajasthan and Uttar Pradesh have been gripped by searing heat wave.
In Rajasthan's Bundi, the temperature crossed 48 degree Celsius on Thursday. In other parts of Rajasthan, over 47-degree temperature was recorded.
According to the Met department, Churu, Kota, Barmer and Jaisalmer sweltered at 45.1, 44.8, 44.6, 44.4 and 44.3 degrees Celsius respectively. 
Bikaner, Ajmer, Pilani, Jodhpur and Jaipur recorded high of 44.3, 43.6, 43.2 and 42.8 degrees Celsius respectively. 
Minimum temperature in the state was recorded in between 26.2 and 34 degrees Celsius, the department said. 
The Met department has forecast heat waves and dust storm at a few places in the state in the next 24 hours.
National capital Delhi also reeled under heatwave with the maximum temperature recorded at 43 degrees Celsius, three degrees above the season's average. 
The minimum temperature was recorded at 26.5 degrees, normal for this time of the year, and humidity oscillated between 53 and 23 per cent, a Met Department official said. 
The Met office has forecast clear skies for tomorrow along with the possibility of heatwave conditions in a few places.
"The maximum and minimum temperatures are likely to hover at 44 and 26 degrees respectively," the weatherman said.
In Himachal Pradesh, heat wave conditions are likely to grip lower hills of Himachal Pradesh over the next three days due to rise in mercury and continued dry weather in the region. 
The MeT office has predicted dry weather in the lower hills over the next six days and rains and thundershowers in mid hills on May 28 and 29 and rains or snow in higher hills on May 29 and dry weather on rest of days. 
The local MeT office has warned of heat wave in lower hills for the next three days, officials said. 
The mercury stayed at 43 degrees Celsius at Una in Shiwalik foothills while Sundernagar, Nahan and Bhuntar recorded a high of 38.1 degrees Celsius, 36.6 degrees Celsius and 36.2 degrees Celsius respectively. 
Bhuntar was followed by Solan at 34.6 degrees Celsius,Palampur 33.2 degrees Celsius, Dharamsala 32.8 degrees Celsius, Shimla 28.5 degrees Celsius, Manali 26.4 degrees Celsius, Kalpa 23.0 degrees Celsius and Keylong 17.1 degrees Celsius, the officials said. 
Meanwhile, officials said forest fires were raging in several parts of the state in pine forests due to sudden rise in mercury. 
The forest department has alerted the field staff and asked the staff to draw the fire lines to prevent fires. The dry pine needles are highly inflammable and due to rise in mercury, minor negligence may cause major fires, an official of the forest department said.
(With PTI inputs)