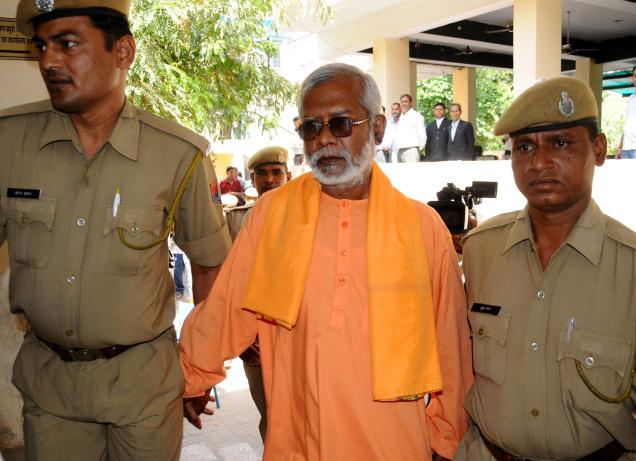 A proposal to challenge in High Court the bail granted to Mecca Masjid blast accused Swami Aseemanand by a Hyderabad court was rejected by senior National Investigation Agency (NIA) officials, a report in the Indian Express said today. 
The proposal by the agency's Hyderabad office to challenge the bail granted to Aseemanand was rejected by top brass of the NIA in New Delhi, the newspaper reported, quoting sources.
A Hyderabad court on March 23 granted bail to Aseemanad in 2007 Mecca Masjid blast case paving way for his release from jail. The bombing of the mosque on May 18, 2007 had killed nine people and injured 58. He walked out of Chanchalguda Jail on April 1 after the NIA did not to appeal the trial court order.
He has been asked by the court not to leave Hyderabad without prior permission. He was also asked to surrender his passport and provide a surety of Rs 1 lakh.
"There were sufficient grounds to challenge the bail order of Aseemanand and the High Court was at liberty to reject the agency's move if there were no merits in the appeal. Among investigators, the opinion to appeal was very strong," officials in Hyderabad were quoted as saying by the daily. 
The attack on historic Mecca Masjid was allegedly carried out by Hindu extremist groups and is being investigated by the NIA's Hyderabad branch, with supervision from its headquarters in Delhi.
NIA director-general Sharad Kumar, on Saturday, did not rule out the possibility of challenging the court order.  
"I will go through the order and make up my mind what to do or not to do," he said. 
The newspaper reported that the sources alleged the NIA headquarters in Delhi had directed the Hyderabad office not to challenge Aseemanand's bail.
"For filing an appeal before the High Court, we need sanction from our headquarters and a legal opinion," an official said. 
"With Aseemanand having been released, the evidence in the case may get weakened," the official added.
The NIA has undertaken investigations of seven cases of alleged Hindu rightwing extremism. While Aseemanad has been granted bail in 2007 Samjhauta Express blast case, the court has acquitted him in the Ajmer blast case. 
In 2014, the NIA did not challenge his bail the Samjhauta blast case on "technical grounds".
On March 8, Aseemanand along with 6 others were acquitted in the 2007 Ajmer dargah blast case by a Jaipur court. 
Aseemanand was arrested by the Central Bureau of Investigation (CBI) on November 19, 2010 from Haridwar in connection with the Mecca Masjid blast case. 
Earlier associated with the Rashtriya Swayamsevak Sangh or RSS, he is considered an ideologue of Abhinav Bharat, an extremist organisation allegedly behind a spate of bombings carried out by Hindu extremists.