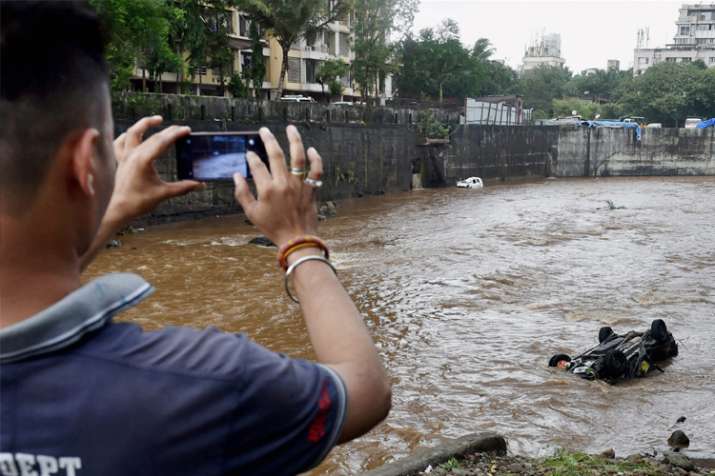 The wreckage caused by incessant downpour in Mumbai might continue on Thursday as the meteorological department has forecasted heavy rainfall and high tides.  
The MeT has forecasted two high tides – first at 7:30 am and the other at 7 pm in the evening. The IMD has asked people to stay away from the sea for safety reasons. 
The advice comes in the wake of deaths of at least 16 people in the last 48 hours in Maharashtra, which include five deaths in the financial capital.
Mumbai has been reeling under the impact of heavy rains from last three days. The MeT department had yesterday issued warning that heavy rains are likely to lash the coastal regions of Maharashtra and Gujarat in the next 24 to 48 hours. 
The Santa Cruz observatory of the IMD registered 331.4 mm rainfall on Wednesday, the heaviest since the July 26, 2005 record of 944 mm, which had caused the worst havoc in decades in the city. 
However, there was some respite yesterday as the metropolis did not witness much rainfall. 
Tuesday's "largely excess" rainfall recorded by the Santa Cruz observatory was also the highest rainfall on an August day since 1997. It was second only to the 346.2 mm of rainfall registered on August 23, 1997, the data showed.
Torrential rain, accompanied by strong winds, pummelled Mumbai in the last two days, disrupting rail, road and air services, uprooting trees, swamping houses and bringing the megapolis and its satellite towns to their knees. 
Many people had to spend the night at their respective workplaces as the roads and railway tracks were waterlogged.  
Indian Navy had been put on alert to handle any emergency. People were stranded in local trains till late Tuesday night. The passengers got some relief after the western line was restored after 12am in the night yesterday.
All schools and colleges, along with most of the government offices, remained closed on Wednesday. 
Four persons, including a three-year-old girl, were washed away in separate incidents following heavy rains in neighbouring Palghar district on Wednesday. 
"The three-year-old victim was travelling on a motorcycle with her kin. When their vehicle reached Waghoba Khind, it skidded and the girl fell into the flood water. She was washed away and her body was recovered later," police said. 
In another incident, a youth fell into a swollen nullah in Palghar town and was washed away. His body is yet to be recovered, they said. Similarly, in separate incidents in Virar and Vasai townships in the district, two persons fell into the gushing waters of nullahs and were swept away. "Their bodies are yet to be recovered," police said.
Renowned gastroenterologist of the Bombay Hospital Dr. Deepak Amrapurkar also went missing near the Elphinstone Road station. The 59-year-old gastroenterologist is feared to have fallen into a manhole near Lower Parel, while he was walking home, on a flooded road, on Tuesday evening.