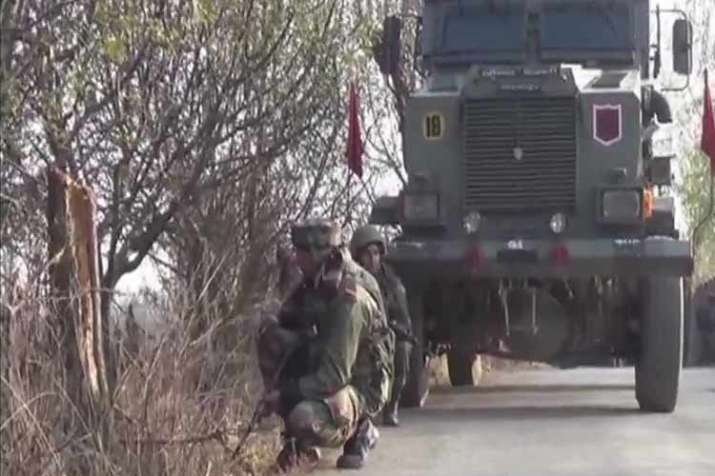 Five militants were killed and one para commando of the Indian Army injured in two separate encounters with security forces in Kashmir's Budgam and Baramulla districts today, officials said here.
Defence Ministry spokesman Colonel Rajesh Kalia said that four terrorists were killed in a gunfight with security forces in Futlipora.
Security forces launched a cordon and search operation at Futlipora in Pakherpora area, 45 kms from here, following information about presence of militants in the area, an Army official said.
He said the militants opened fire on security forces, who retaliated, triggering a fierce gun battle.
"Four militants were killed in the gunbattle," the official said adding the operation was still in progress.
In the gunfight at Futlipora village, following specific information about the presence of militants, the security forces had surrounded the village in Pakherpora area of Badgam district in the morning.
'As the security forces closed in on the hiding militants, the security forces were fired upon triggering the encounter," a police officer said.
A teenager was injured when a mob clashed with the army in Pakherpora Chowk. The mob attacked the army convoy carrying reinforcements to Futlipora village, the police officer said.
Sinar Ahmad, 15, was injured when the army resorted to aerial firing after the mob attack. Ahmad was shifted to hospital in Srinagar, he added.
Authorities have suspended Internet services in the district to prevent spread of rumours, he said.
In another gunfight that erupted in north Kashmir Sagipora village of Sopore area in Baramulla, police said one militant has been killed so far while a para commando of the army was injured.
"The operation against militants in Sagipora village is still on," police said.
Police sources said one security force personnel sustained injuries during the operation while two civilian youth were hurt in security forces action against protestors who were trying to disrupt the anti-militancy operation.
More details awaited.