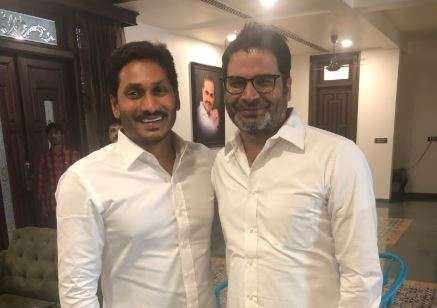 Political strategist and Janata Dal (United) leader Prashant Kishor on Thursday congratulated YS Jaganmohan Reddy for his victory in Andhra Pradesh assembly election.
Reportedly, Prashant Kishor's organization worked with Jagan Reddy's party for two years. Kishor planned Reddy's campaign in each of the 175 seats.  
"Thank you Andhra and colleagues at Indian PAC for the landslide victory. Congratulations and best wishes to the new Chief Minister," Prashant Kishore tweeted, referring to his organization I-PAC (Indian Political Action Committee).
The YSR Congress Party (YSRCP), led by YS Jaganmohan Reddy, on Thursday stormed to power in Andhra Pradesh with a landslide victory, winning 150 seats in the 175-member Assembly. The Telugu Desam Party (TDP), which was in power, bit the dust across the state.
"This mandate has come out with the tremendous amount of responsibility and I will make sure that I will live up to the expectations," YSRCP leader told reporters.
Jaganmohan Reddy said with this resounding victory, YSRCP has scripted a new chapter in the history of  the state.