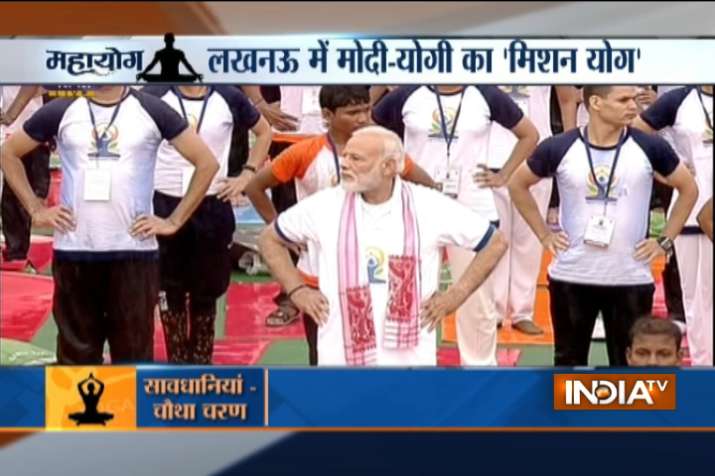 Prime Minister Narendra Modi led the grand celebrations of the third edition of International Yoga Day on Wednesday as thousands of yoga enthusiasts, along with Uttar Pradesh Chief Minister Yogi Adityanath and Governor Ram Naik joined him at Lucknow's sprawling Ramabai Ambedkar Ground. Some 51,000 persons, including several dignitaries, politicians and bureaucrats, were expected to take part in the mass yoga demonstration in the Uttar Pradesh capital, where rehearsals have been going on for over a month. However, the exact number of participants is yet to be ascertained. 
The first International Yoga Day celebration was organised at Rajpath in New Delhi in 2015 while last year, the event was organised in Chandigarh. 
Here are live updates of the International Yoga Day celebrations: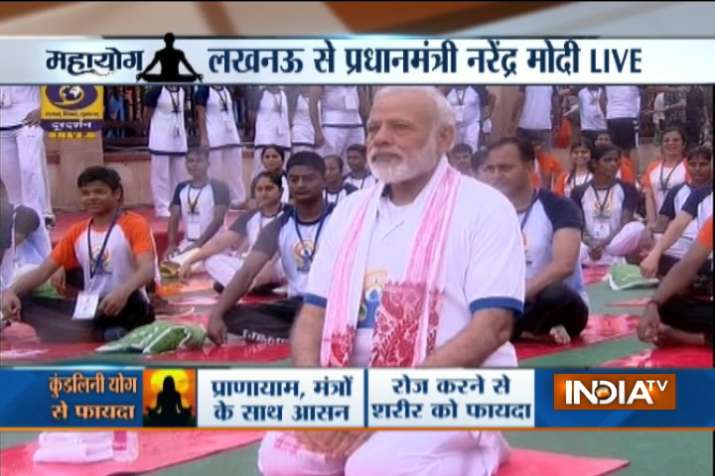 * PM Modi performs asanas along with thousands of yoga enthusiasts in Lucknow
* Thousands perform Yoga at  Lucknow's Ramabai Ambedkar maidan, PM Modi leads celebrations 
* PM Modi concludes his address in Lucknow
#InternationalYogaDay2017 @moayush Yoga onboard INS Jalashwa & INS Kirch in Bay of Bengal pic.twitter.com/wDfgO94a21

— SpokespersonNavy (@indiannavy) June 21, 2017
* Yoga is binding the world together, says PM Modi.
* Yoga can have the same importance as salt has in life, says PM Modi.
* Yoga, which connects body, mind and soul, has played a big role in connecting the world too, says PM Narendra Modi
* Yoga is about health assurance. It is not even expensive to practice: PM 
* I urge everyone to make Yoga a part of their lives: PM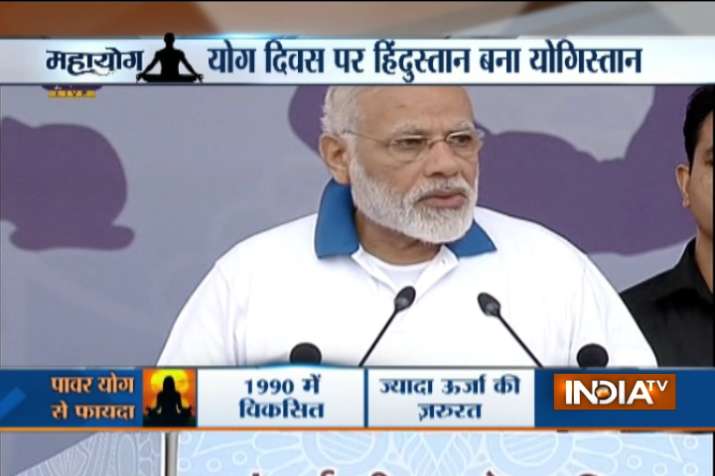 * In addition to fitness, wellness is important. Yoga is a medium to achieve wellness: PM Modi
* I am glad to see several Yoga institutes take shape over the last three years. Demand for Yoga teachers is increasing: Modi
* Today, Yoga has become a part of so many lives. Yoga's popularity outside India is high & has connected the world with India: PM
* From Lucknow I convey my greetings to all those joining the #YogaDay2017 celebrations all over India: PM Modi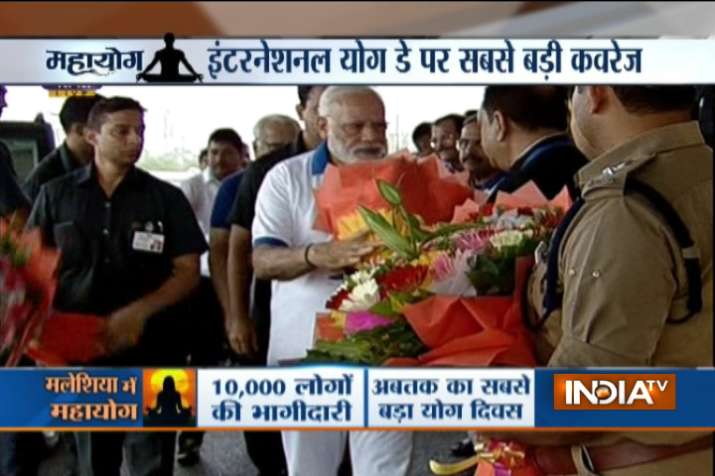 * Gujarat CM Vijay Rupani, Amit Shah and Baba Ramdev participate in a Yoga camp in Ahmedabad* Gujarat CM Vijay Rupani, Amit Shah and Baba Ramdev participate in a Yoga camp in Ahmedabad
* Yoga day events will also be organised in all states with the Union Human Resource Development Ministry directing universities and educational institutions to ensure elaborate arrangements to mark the event.
​* PM Modi arrives at Lucknow's Ramabai Ambedkar maidan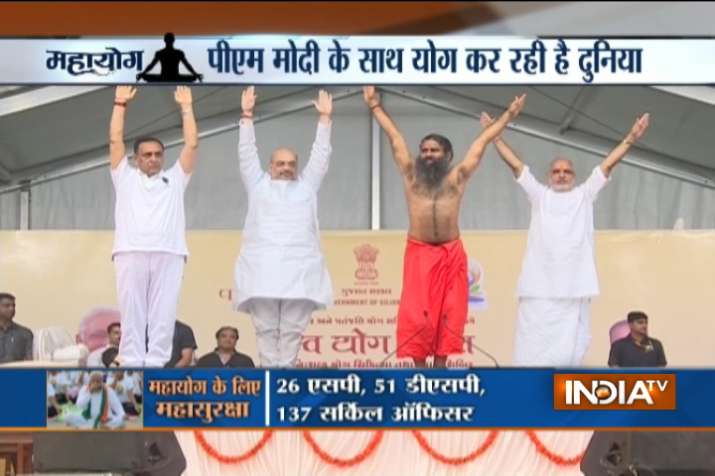 * Modi's ministers will also perform yoga asanas across the country.
​
LG Anil Baijal, CM Arvind Kejriwal and Union Minister Venkaiah Naidu perform yoga in Delhi #InternationalYogaDay pic.twitter.com/P9Ycy4iMuW

— ANI (@ANI) June 21, 2017
* In Delhi, the main event was held at the Cannaught Place. 
The day is also being celebrated across the globe at Indian missions and other places. Some countries have already observed the day while others plan the celebrations in coming days as Wednesday is a working day.
Some 1,000 Chinese yoga practitioners are expected to celebrate the day in Beijing, following a week of events across the country.
India's Permanent Mission to the UN as well as the Indian Consulate have also planned several events to mark the day.
Celebration of #InternationalYogaDay at the world heritage site of Machu Picchu in Peru pic.twitter.com/F3WrQUZvbH

— ANI (@ANI) June 21, 2017
A "Yoga Session with Yoga Masters" is planned for Tuesday at the UN with mass participation of diplomats, staff and visitors.
New York's Times Square, billed as the crossroads of the world, is holding the annual "Mind over Madness Yoga" celebrations on Wednesday, which is the Summer Solstice in the northern hemisphere.
In Israel, a yoga event will be held at Rabin Square in Tel Aviv. Thousands are expected to join in.
The Indian High Commission in Trinidad and Tobago has already announced 12-day activities to mark the International Yoga Day, which includes 108 Surya Namaskars among others.