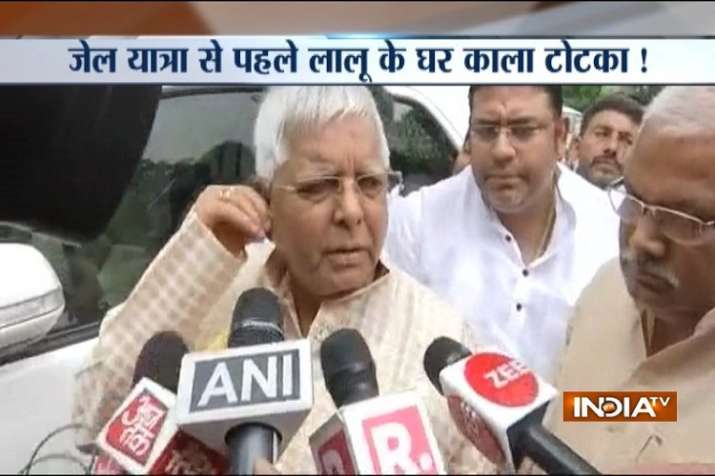 Rashtriya Janata Dal (RJD) president and fodder scam convict Lalu Prasad surrendered before a special CBI court in Ranchi on Thursday after his 112-day parole expired. Judge SS Prasad directed the authorities to take Lalu to Birsa Munda Central Jail in Hotwar near Ranchi where he will undergo a medical test. The former Railway Minister could later be shifted to Rajendra Institute of Medical Sciences (RIMS) for treatment depending on the doctors' advice, the judge said.
Talking to reporters outside the court before before surrendering, the former Bihar chief minister said it was for the court to decide whether  to keep him in jail or allow him to stay in hospital in Ranchi. 
"I will obey the court's order. I have full faith in judiciary. It is for the court to decide whether to keep me in jail or in hospital. My health condition is not good," Lalu said.
Lalu Prasad, who reached Ranchi from Patna on Wednesday, was directed by the Jharkhand High Court to surrender before the CBI court by August 30.
After being sent to jail in December last year following conviction in fodder scam cases, Lalu Prasad spent a considerable time at the RIMS hospital in Ranchi and at the AIIMS at New Delhi, for treatment of various ailments. He was also treated at a Mumbai hospital for three weeks and was discharged on August 25.
He was released on six weeks' provisional bail on May 11 by the Jharkhand High Court for medical treatment and was restrained from taking part in any public function, political activity or issuing statements to the media during the period.
The high court had extended the period of Lalu Prasad's bail and on August 24 refused to extend it further.
The former Bihar chief minister was ordered to surrender before August 30. 
WATCH: Lalu surrenders in Ranchi court, sent to jail