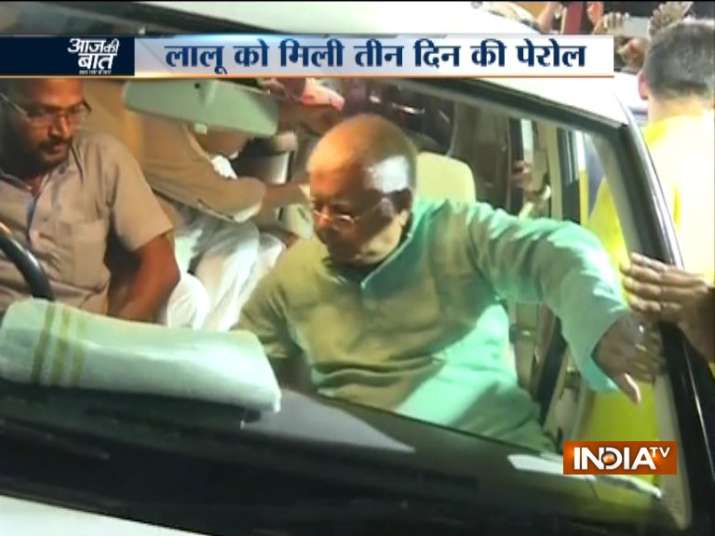 RJD supremo Lalu Prasad Yadav, serving jail sentence in Ranchi after being convicted in multiple fodder scam-related cases, arrived in Patna on Friday to attend his son Tej Pratap Yadav's wedding on Saturday.
Earlier in the day, Lalu was released on a three-day parole for attending his son's marriage though he had sought a five-day parole. 
Lalu was given a rousing welcome by family members and supporters, after he arrived at Patna airport.
His eldest daughter and Rajya Sabha member Misa Bharti, elder son Tej Pratap Yadav - who is tying the knot on Saturday - and the youngest offspring and heir apparent Tejashwi Yadav were at the Jay Prakash Narayan Airport to receive their father. 
Lalu could not attend his son's engagement ceremony on April 18 following which Tej Pratap had tweeted "Miss you PAPA". 
The jailed RJD chief had been undergoing treatment at the RIMS hospital in the Jharkhand capital.
Inspector General of Prison Harsh Mangla said that Prasad has been granted parole for three days. When asked about Prasad being granted a three-day parole though he had prayed for five days, the Jharkhand Prison IG said, "We decided on the matter considering the need." 
He, however, said that as per the rules, the travel time is not counted in the duration of the parole. 
Bhola Yadav, RJD General Secretary and a close aide of Prasad, accompanied him from Ranchi. He said the RJD chief is likely to return to Ranchi on May 14 on completion of parole. 
Tej Pratap Yadav's marriage with daughter of RJD MLA Chandrika Rai is scheduled on May 12 in Patna. 
The RJD chief was admitted to the All India Institute of Medical Sciences (AIIMS) In Delhi on March 29 for specialised treatment and was discharged on April 30. The hospital had said his condition had improved significantly but the former Bihar chief minister alleged a "political conspiracy" behind his discharge. 
At Patna, the Indigo flight taken by RJD supremo arrived from Ranchi on schedule at about 6.40 PM. Prasad came out of the airport on a wheelchair minutes later. 
A large posse of mediapersons waited outside, many of them for hours together, and made a frenetic bid to catch an image of the RJD leader on their cameras and mobile phones. 
Prasad, flanked by his children and security personnel, was escorted to a white SUV which took him to 10, Circular Road, the bungalow allotted to his wife and former Chief Minister Rabri Devi, a couple of kilometres away. 
At Ranchi too, Prasad had made a quite entry into airport, even though mediapersons tried to seek his comment. 
In Patna, a heavy deployment of police was in place at the airport as well as on the route leading to Rabri's residence, which is a stone's throw from the official residence of the chief minister and the Raj Bhavan. 
Supporters, many of them coming from far-off districts including Gopalganj - to which Prasad belongs - stood on the roadside at various points and raised slogans when the vehicle passed in front of them. 
The celebratory mood was palpable at 2, Virchand Patel Marg, the party's state headquarters, where RJD workers - including women - smeared "gulaal" on each other's faces and lighted earthen lamps which were placed in a pattern that flashed the message 'WELCOME LALU'. 
"There is absolutely no doubt that injustice is being done to Lalu. But we shall let the people of Bihar take those responsible to task for that. 
"At present it is celebration time and we would like to forget all shikwa-shikayat (grievances and resentment," party national spokesman and Rajya Sabha MP Manoj Jha said. 
The 10, Circular Road bungalow of Rabri Devi has been abuzz with wedding preparations for the past few days. 
A number of political leaders are expected to attend the wedding of Tej Pratap Yadav and Aishwarya Rai. The bride's grandfather Daroga Rai was the chief minister of Bihar in early 70s from Congress.
 
Prominent among those who have been invited to the wedding are UPA Chairperson Sonia Gandhi, Congress president Rahul Gandhi, Bihar Governor Satya Pal Mallik, Chief Minister Nitish Kumar, Deputy Chief Minister Sushil Kumar Modi and Chief Justice of the Patna High Court Rajendra K Menon and Yoga guru Ramdev. 
Pandals have been also erected at the house of Rabri Devi where pre-wedding rituals will be conducted as well as at the residence of Chandrika Rai, where the marriage will take place in a traditional way. 
In Prasad's native Phulwaria block in Gopalganj district, his nephew Ramanand Yadav said that they had received an invitation and so have many others in the village and they would go to bless the young couple.
(With PTI inputs)