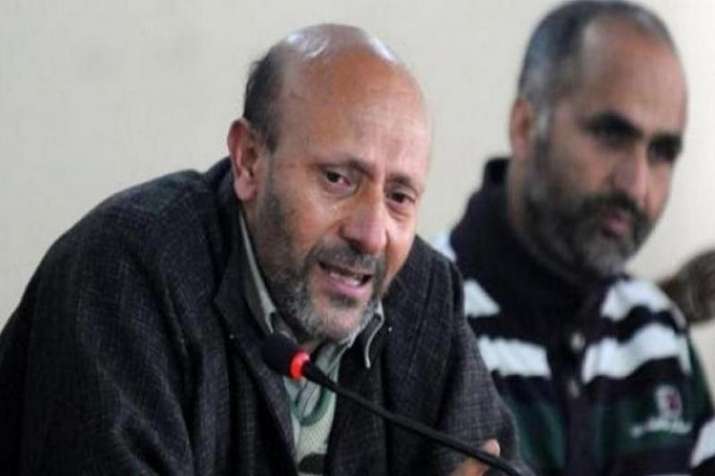 Sheikh Abdul Rasheed, MLA from North Kashmir's Langate constituency was detained on Sunday for holding a protest march in Jammu and Kashmir's Srinagar. The protest was in "solidarity" with Kashmiri students of the Aligarh Muslim University (AMU) who were booked on sedition charges.
On Friday, three Kashmiri students of the university were booked for sedition, as they allegedly raised "anti-India" slogans and tried to hold a prayer meet for for Hizbul Mujahideen commander Manan Bashir Wani, who was killed in an encounter in north Kashmir Thursday.
According to a party spokesperson, Rasheed held a protest march along with his supporters of his Awami Ittehad Party (AIP), which started from his official residence at Jawahar Nagar area and proceeded towards Lal Chowk city centre.
The protesters raised slogans in favour of the AMU students, "who were being harassed constantly for offering in absentia funeral prayers of Hizbul commander Manan Wani", he said.
The protesters were obstructed by the police and the AIP chief was taken into custody as the march reached near the Zero Bridge in the Rajbagh area, he added.
Offering funeral prayers for anyone, including Wani, was not a crime "but a fundamental religious obligation," said Rasheed, as he spoke to reporters before holding the protest march.
"The AMU administration has filed charges of sedition against Kashmiri students only under pressure from local BJP leaders just to polarise the issue and gain electoral dividends," he said.
"Whatsoever is being attributed to the students is absolutely false and baseless. The AMU is a prestigious institution and the only aim to drag the university into controversies is to interfere in the affairs of the varsity and abolish its Muslim dominated character," he alleged.
Rasheed further said Kashmiri students "are being targeted only for the reason that they are Kashmiris and being a Kashmiri has become a crime in India".
"Every Kashmiri stands with the students who are being subjected to mental torture and harassment not only at the AMU but everywhere in India," he said.
"We demanded withdrawal of FIR against the students and seek revocation of suspension orders of the students who have been accused of raising anti-India slogans," Rasheed added.