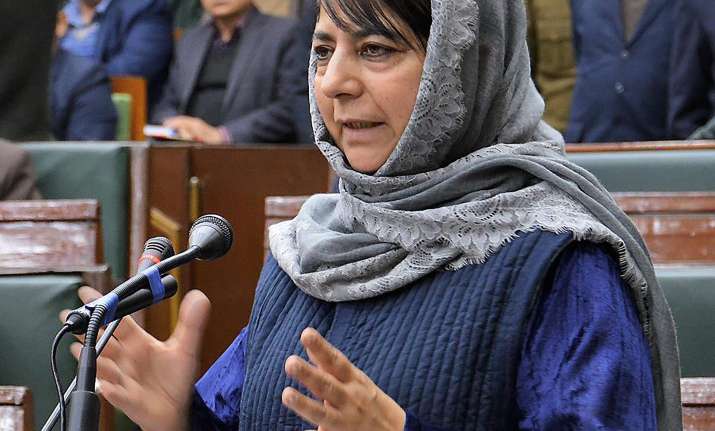 'India is our country and sole benefactor of Jammu and Kashmir', the strong statement asserting Jammu and Kashmir's loyalty to India came from state's chief minister Mehbooba Mufti on Wednesday. 
In a memorable speech in J&K Assembly, CM Mufti reprimanded the opposition for creating roadblock in path to peace in the Valley. 
"You do not believe in J&K constitution, You do no believe in Indian constitution, then what do you believe in? Why would they (Indian government) give you anything? Who will give you anything?," Mufti asked the elected leaders. 
Mufti added that Pakistan's action only cause harm to Kashmiris. "There actions are to harmful that instead of schools and hospital we have to make bunkers," she said. 
Asserting on the importance of acknowledging Union government's attentive peace mission in the state, Mufti added, "I want to say one thing on the record for people of J&K, whatever we will get, we will get it from this country (India) only and nowhere else."
Mufti targeted Hurriyat leaders for boycotting talks with Dineshwar Sharma, special Kashmir interlocutor appointed by the Modi government. 
Central government is doing everything possible to return peace in the Valley, it even appointed an interlocutor with the powers of a cabinet secretary. But what did he get when he came here. Those who were making demands of peace talks, shut their doors when the opportunity came, she argued. 
On the matter of Kashmiri scholar Mannan Wani who recently joined Hizbul Mujahideen terror outfit, Mufti expressed hope that with the progress of central schemes encouraging youth to return home, Mannan Wani will also follow suit. 
The chief minister stressed on the political resolution of the law and order situation in the state. "The atmosphere is conducive to resolve Kashmiri violence through inclusive political process," Mufti said, adding that Prime Minister can resolve the Kashmir issue once and for all.