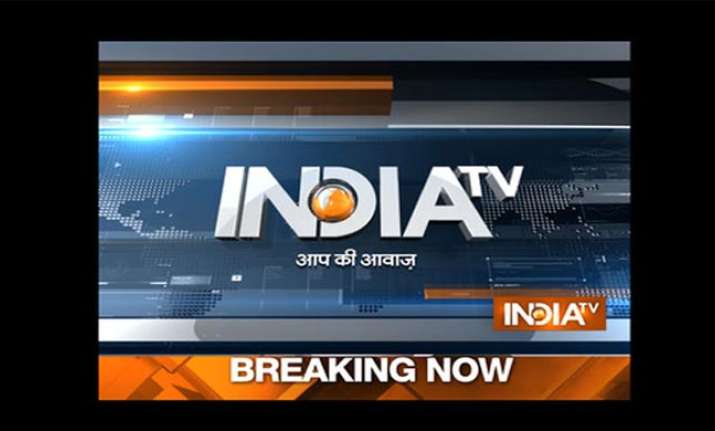 National News
Pakistan isolated, 19th SAARC Summit in Islamabad cancelled: Sources
 
In a big diplomatic snub to Pakistan, the 19th SAARC Summit, which was slated to be held in Islamabad on November 9-10, has now been cancelled.
'Jadoo ki Jhappi' to 'calm down' people of South Kashmir, says Army official
 
In a move aimed at increasing interactions with locals and instilling a sense of restoration of normalcy as part of the Indian Army's 'Operation Calm Down', officials are now foraying into the interiors of South Kashmir and trying to build confidence among locals to open their establishments which have been shut for nearly three months in the restive region of the Kashmir Valley.
Saamana cartoon row: Cartoonist apologises for hurting Maratha sentiments after office vandalised
 
The man, whose cartoon in Shiv Sena's mouthpiece Saamana has stirred a huge controversy, has apologised for offending and hurting the sentiments of Marathas.
As row escalates, Pak forces begin joint exercise near international border adjoining Jaisalmer
 
At least 300 Pakistan Air Force officers and 15,000 Army personnel have started a joint desert war game exercise just 15-20 km away from the international border adjoining Jaisalmer in Rajasthan.
Union Cabinet approves ratification of Paris Agreement
The Union Cabinet today approved ratification of Paris Agreement which will take place on October 2, Union Minister Prakash Javadekar said.
Twin horror for UP: Girl gangraped while parents held hostage, another stabbed for resisting rape
 
In two shameful incidents that raise questions on the safety of women in Uttar Pradesh, a 12-year-old girl was allegedly gangraped by five men in the state capital on Wednesday who held her parents hostage to prevent them from intervening. In another incident, a 14-year-old girl was stabbed after she resisted a rape attempt near Barabanki district.
International News
Shimon Peres witnessed Israel's history, and shaped it
Former President and Prime Minister Shimon Peres breathed his last today in Jerusalem after a prolonged illness. The Nobel laureate had witnessed the tumultuous history of the Jewish state right from its very beginning.
Pakistan can't take India's restraint granted for long: US daily
 
Pakistan cannot take India's policy of strategic restraint for granted for too long and if Islamabad rejects Prime Minister Narendra Modi's offer of cooperation, it will become part of a case for making the country a "pariah nation", a US daily has claimed.
India a responsible nuclear state, says US Defence Secretary
 
US Defence Secretary Ashton Carter today said that India is a responsible nuclear state while Pakistan's history of nuclear weapons is entangled in tensions.
Business News
For second consecutive year, India climbs 16 places in Global Competitiveness Index
 
In a big boost to Prime Minister Narendra Modi government's reform initiatives for the Indian economy, India has climbed 16 places to the 39th rank in the latest Global Competitiveness Report prepared by the World Economic Forum.
Walmart may help Flipkart take the fight to Amazaon with Rs 66,000 crore investment
World's biggest retailer Walmart Stores is looking to buy a small equity in Indian e-commerce giant Flipkart.
Airtel announces free incoming calls on international roaming, offers on some data plans
 
In a series of moves following the launch of Reliance Jio which is offering free voice calls to its customers for three monthsBharti Airtel on Wednesday announced the launch of its new International Roaming (IR) packs for the ease of customers travelling abroad.
Entertainment News
#HappyBirthdayRanbirKapoor: 5 dialogues from his movies which captured the thoughts of this generation
The Kapoor scion, Ranbir has turned 34 today. As the torchbearer of the first family of Bollywood, Ranbir has come true to all the things that have been expected from him. He has carved a niche for himself with his impeccable acting, he hasn't let success get into his head or failures bring him down.
Tannishtha Chatterjee walks out of 'Comedy Nights Bachcao Taaza' after facing racial abuse
Colors channel new show 'Comedy Nights Bachao Taaza' is making the headlines for all the wrong reasons after actress Tannishtha Chatterjee accused it of racial abuse.
No Pakistan release for 'MS Dhoni: The Untold Story', distributor cites Indo-Pak tensions
Amid heightened tensions between India and Pakistan, the latter has decided not to release 'MS Dhoni: The Untold Story' in theatres in the country. The chairman of the company which was supposed to distribute the movie in Pakistan has confirmed that the movie won't release there.
Sports News
Fall in line, or we will make you: Supreme Court tears into BCCI over Lodha panel report
The Supreme Court today came down heavily upon the the Board of Control for Cricket in India for defying its orders and impeding reform implementation.
Won't disappoint our soldiers: Indian hockey captain vows team's best against Pakistan
Amid heightened tensions between India and Pakistan following the terror attack in Uri that led to the death of 18 soldiers, the Indian national hockey team has vowed to give its best when it faces arch-rivals Pakistan in Malaysia next month. 
I don't have any villains in my life: MS Dhoni ahead of release of his biopic
 
India's ODI skipper Mahendra Singh Dhoni, who keenly awaits the release of "M. S. Dhoni: An Untold Story" a biopic by filmmaker Neeraj Pandey says at first he was hesitant to give a nod to the project as he thought what kind of a film can be made on him as he doesn't have any villains in his life.