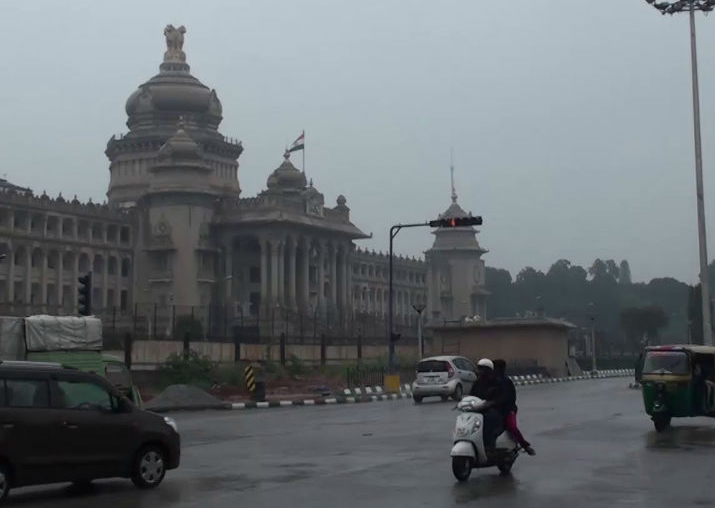 Heavy rains in Bengaluru and surrounding districts on Wednesday crippled normal life, flooding roads and houses and leading to traffic snarls in many localities in the city. The city received heavy rainfall with a few areas receiving a maximum rainfall of 196 mm as recorded at 8.30 am.
An official from the Karnataka State Natural Disaster Monitoring Centre (KSNDMC) said that Bengaluru has received nearly double the normal amount of rainfall for the month of September. It received 295 mm of rain from September 1 to 26 as against the normal of 148 mm.
The heavy rains which began on Tuesday night led to storm water drains overflowing onto the roads in several localities, leading to water-logging. A number of trees were also uprooted due to the rains in the city, blocking vehicular movement.
A 48-year-old man, Narayanappa, reportedly died at Alur in the city's north suburb when the tiled roof of his old house collapsed in the rains.
Even upscale suburbs like Koramangala and Jayanagar witnessed flash floods as the drains, filled with silt and filth, failed to cope with the huge amounts of water. Rainwater also entered homes in many areas.
Fifty-five-year-old Meenamma, a resident of Krishnarajapuram, a suburb in the eastern part of the city, died on Wednesday after a night of incessant rain. Her house was inundated after the rainfall. It was a natural death as she had been suffering from illness for weeks.
A few compound walls in the city also came crashing down due to the night's rain.
"A compound wall in western suburb Chandra Layout collapsed due to the rain, crushing about eight cars that were parked close to it," Bruhat Bengaluru Mahanagara Palike spokesman Suresh said.
Thousands of chickens at a poultry farm in Nelamangala, a town in Bengaluru Rural district, about 30 km from the city, died after the farm was flooded by rain water, an official said.
The Bellandur Lake, the largest of the lakes and tanks in the city, was seen covered in toxic foam after the rainfall. Similar froth has led to the lake catching fire several times in the past.
Binnamangala Lake in Nelamangala town of Bengaluru Rural district, about 35 km to the north west of the city, breached after the excessive rainfall, leading to water flowing on the roads in the town.
Many villages and towns in south interior Karnataka, especially in Mysuru region like Mandya, Bidadi, Srirangapatna and Channapatna, have been badly affected due to the rains. According to KSNDMC officials, heavy rain is likely to continue in the state for the next three days.
"An east-west shear zone is prevailing over the region, at 5.8 km above the sea level, wherein winds from west to south and east to north converge to cause instability, thereby leading to rains in the state," Sundar M. Metri, the Bengaluru chief of India Meteorological Department, said.