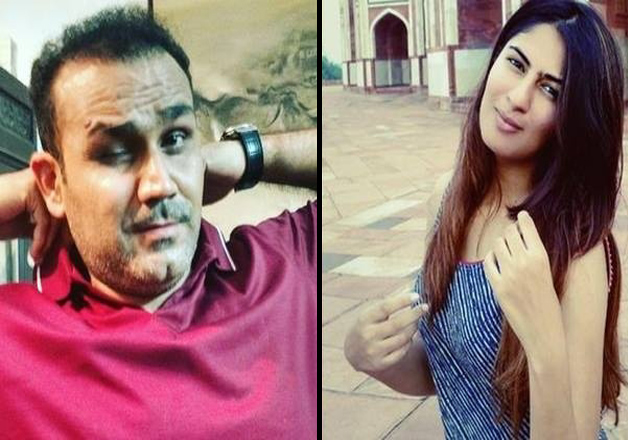 Former Team India batsman Virender Sehwag, whose tweet trolling DU student Gurmehar Kaur triggered an outrage on social media, today claimed his post was "plain fun" but was misconstrued.
However, Olympic medalist Yogeshwar Dutt and wrestler sisters Geeta and Babita Phogat, joined the bandwagon of celebrities who took to social media to question Kaur's views.
Kaur, 20, had started the campaign 'I am not afraid of ABVP', following the violence at Ramjas College. The campaign went viral and received massive support from students of various universities.
She posted her pictures on Facebook holding different placards including 'I am not afraid of ABVP' and 'Pakistan did not kill my father but war did'.
While the literature student's classmates and peers started sharing the post, prompting students from various universities across the country to change their profile pictures with similar placards, Sehwag shared an image of his holding a placard saying, "I did not score two triple centuries. My bat did." 
After his post created a social media flurry, Sehwag today clarified, "My tweet wasn't intended for Gurmehar. It was plain fun but people construed the other way." 
Dutt posted an image of Kaur along with Adolf Hitler, Osama bin Laden and a black buck.
While Geeta Phogat criticised Kaur saying, "If you speak against nation, people will obviously not like it.Irrespective of gender, the person won't be spared", her sister Babita Phogat said, "her view that her father was killed by war and not Pakistan was wrong for me. It's against our nation and martyrs".
Bollywood actor Randeep Hooda, who had joined Sehwag yesterday in the Twitter war with Kaur, wrote an open letter titled "Don't hang me over a laugh" after he was at the receiving end for allegedly bullying the literature student.
Kaur withdrew from her social media campaign after receiving rape threats allegedly from the members of the RSS-backed outfit.
Amid the debate over Kaur blaming war, and not Pakistan, for the death of her father in militancy-hit Kashmir, Congress MP Shashi Tharoor voiced regret over Sehwag's attempt to "trivialise a serious issue like war". 
"I am disappointed that my cricket hero Virender Sehwag chose to enter the wholly politicised debate over Gurmehar Kaur's words by saying "I didn't score two triple centuries, my bat did," Tharoor said on Facebook. 
"...But who are we, who have not endured what Gurmehar did at a tender age, to substitute our worldly-wise realpolitik for the idealism of a 20-year old student? Viruji, it does not do justice to the memory of the martyr for any of us to be insensitive to the feelings of his family, however emotional their words may be, since they, not us, have suffered the brunt of the loss, and is their prerogative to react to that loss," said Tharoor, who is the chairman of the parliamentary standing committee on external affairs.