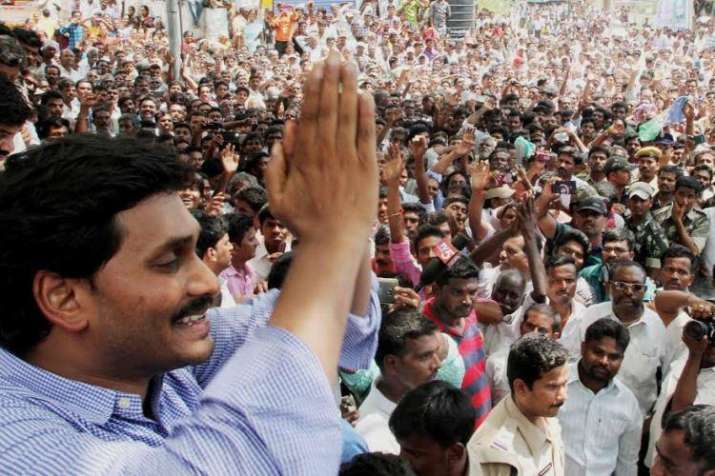 The Bharatiya Janata Party (BJP), led by Prime Minister Narendra Modi, was on Thursday set to retain power for another five years after making a sweep of the Lok Sabha battle and mauling the opposition.
So stunning was the BJP's showing that it bulldozed the opposition even where it had looked strong, virtually sweeping entire states in northern India and even beyond and making unprecedented inroads in Trinamool Congress-ruled West Bengal.
The YSRCP, which swept to power in Andhra Pradesh with a landslide victory, it won 22 out of 25 Lok Sabha seats, whereas Telugu Desam Party (TDP) bagged only 3 seats.
Lok Sabha Election Results 2019 Full list of winners and constituency wise details
Andhra Pradesh
| | | |
| --- | --- | --- |
| Constituencies | Winning Candidates | Party |
| Araku | Goddeti Madhavi | YSRCP |
| Srikakulam | Kinjarapu Ram Mohan Naidu | TDP |
| Vizianagaram | Bellana Chandra Sekhar | YSRCP |
| Visakhapatnam | MVV Satyanarayana | YSRCP |
| Anakapalli | Beesetti Venkata Satyavathi | YSRCP |
| Kakinada | Vanga Geethaviswanath | YSRCP |
| Amalapuram | Chinta Anuradha | YSRCP |
| Rajahmundry | Margani Bharat | YSRCP |
| Narasapuram | Kanumuru Raghu Rama Krishna Raju | YSRCP |
| Eluru | Kotagiri Sridhar | YSRCP |
| Machilipatnam | Balashowry Vallabhaneni | YSRCP |
| Vijayawada | Kesineni Srinivas | TDP |
| Guntur | Jayadev Galla | TDP |
| Narasaraopet | Lavu Sri Krishna Devarayalu | YSRCP |
| Bapatla | Nandigam Suresh | YSRCP |
| Ongole | Magunta Sreenivasulu Reddy | YSRCP |
| Nandyal | Pocha Brahmananda Reddy | YSRCP |
| Kurnool | Ayushman Doctor Sanjeev Kumar | YSRCP |
| Anantapur | Talari Rangaiah | YSRCP |
| Hindupur | Kuruva Gorantla Madhav | YSRCP |
| Kadapa | Yeduguri Sandinti Avinash Reddy | YSRCP |
| Nellore | Adala Prabhakara Reddy | YSRCP |
| Tirupati | Balli Durga Prasad Rao | YSRCP |
| Rajampet | PV Midhun Reddy | YSRCP |
| Chittoor | Naramalli Siva Prasad | YSRCP |
Telangana
| | | |
| --- | --- | --- |
| Constituencies | Winning Candidates | Party |
| Adilabad | Soyam Bapu Rao | BJP |
| Pedapalle | Venkatesh Netha Borlakunta | TRS |
| Karimnagar | Bandi Sanjay Kumar | BJP |
| Nizamabad | Arvind Dharmapuri | BJP |
| Zahirabad | BB Patil  | TRS |
| Medak | Kotha Prabhakar Reddy | TRS |
| Malkajgiri | Anumula Revanth Reddy | INC  |
| Secunderabad | G Kishan Reddy | BJP |
| Hyderabad | Asaduddin Owaisi | AIMIM |
| Chevella | Dr. G. Ranjith Reddy  | TRS |
| Mahbubnagar | Manne Srinivas Reddy | TRS |
| Nagarkurnool | Pothuganti Ramulu | TRS |
| Nalgonda | Uttam Kumar Reddy Nalamada | INC |
| Bhongir | Komati Reddy Venkat Reddy | INC |
| Warangal | Dayakar Pasunoori | TRS |
| Mahabubabad | Kavitha Malothu | TRS |
| Khammam | Nama Nageswara rao | TRS |
ALSO READ | Uttar Pradesh Lok Sabha Results 2019: Full list of winners
Also Read| Kerala and Tamil Nadu Lok Sabha Results 2019: Full Winners List
Also Read| Odisha Lok Sabha Results 2019: Full list of winners