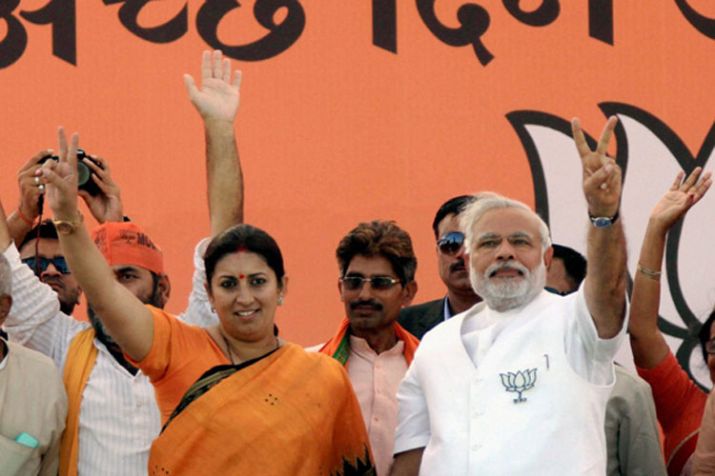 The Bharatiya Janata Party (BJP), led by Prime Minister Narendra Modi, was on Thursday set to retain power for another five years after making a sweep of the Lok Sabha battle and mauling the opposition.
So stunning was the BJP's showing that it bulldozed the opposition even where it had looked strong, virtually sweeping entire states in northern India and even beyond and making unprecedented inroads in Trinamool Congress-ruled West Bengal.
The SP-BSP 'Mahagathbandhan' in UP did not prove much of a challenge for the BJP as the party bagged 62 seats on the back of a strong Modi wave. The biggest story of the election results came from UP where Smriti Irani defeated Rahul Gandhi from his family bastion of Amethi. 
Here is the full list of winning candidates from the state of Uttar Pradesh
| | | |
| --- | --- | --- |
| Constituencies | Winning Candidates | Party |
| Saharanpur | Haji Fazlur Rehman | Bahujan Samaj Party |
| Kairana | Pradeep Kumar | Bharatiya Janata Party |
| Muzaffarnagar | Sanjeev Kumar Balyan | Bharatiya Janata Party |
| Bijnor | Malook Nagar | Bahujan Samaj Party |
| Meerut | Rajendra Agarwal | Bharatiya Janata Party |
| Baghpat | Dr. Satyapal Singh | Bharatiya Janata Party |
| Ghaziabad | Vijay Kumar Singh | Bharatiya Janata Party |
| Gautam Buddha Nagar | Dr. Mahesh Sharma | Bharatiya Janata Party |
| Nagina | Girish Chandra | Bahujan Samaj Party |
| Amroha | Kunwar Danish Ali | Bahujan Samaj Party |
| Bulandshahr | Bhola Singh | Bharatiya Janata Party |
| Aligarh | Satish Kumar Gautam | Bharatiya Janata Party |
| Hathras | Rajvir Dilar | Bharatiya Janata Party |
| Mathura | Hema Malini | Bharatiya Janata Party |
| Agra | Satyapal Singh Baghe | Bharatiya Janata Party |
| Fatehpur Sikri | Rajkumar Chahar | Bharatiya Janata Party |
| Moradabad | Dr. ST Hassan | Samajwadi Party |
| Rampur | Mohammad Azam Khan | Samajwadi Party |
| Sambhal | Dr.Shafiq Ur Rahman Barq | Samajwadi Party |
| Firozabad | Dr. Chandra Sen Jadon | Bharatiya Janata Party |
| Mainpuri | Mulayam Singh Yadav | Samajwadi Party |
| Etah | Rajveer Singh (Raju Bhaiya) | Bharatiya Janata Party |
| Badaun | Dr. Sanghmitra Maurya | Bharatiya Janata Party |
| Aonla | Dharmendra Kashyap | Bharatiya Janata Party |
| Bareilly | Santosh Kumar Gangwar | Bharatiya Janata Party |
| Pilibhit | Feroze Varun Gandhi | Bharatiya Janata Party |
| Shahjahanpur | Arun Kumar Sagar | Bharatiya Janata Party |
| Kheri | Ajay Kumar | Bharatiya Janata Party |
| Hardoi | Jai Prakash | Bharatiya Janata Party |
| Misrikh | Apna Dal (Soneylal) | Bharatiya Janata Party |
| Unnao | Swami Sakshi Ji Maharaj | Bharatiya Janata Party |
| Farrukhabad | Mukesh Rajput | Bharatiya Janata Party |
| Etawah | Dr Ram Shankar Katheria | Bharatiya Janata Party |
| Kannauj | Subrat Pathak | Bharatiya Janata Party |
| Kanpur | Satyadev Pachauri | Bharatiya Janata Party |
| Akbarpur | Devendra Singh 'Bhole' | Bharatiya Janata Party |
| Jalaun | Bhanu Pratap Singh Verma | Bharatiya Janata Party |
| Jhansi | Anurag Sharma | Bharatiya Janata Party |
| Hamirpur | Kunwar Pushpendra Singh Chandel | Bharatiya Janata Party |
| Dhaurahra | Rekha Verma | Bharatiya Janata Party |
| Sitapur | Rajesh Verma | Bharatiya Janata Party |
| Mohanlalganj | Kaushal Kishore | Bharatiya Janata Party |
| Lucknow | Rajnath Singh | Bharatiya Janata Party |
| Raebareli | Sonia Gandhi | Indian National Congress |
| Amethi | Smriti Irani | Bharatiya Janata Party |
| Banda | RK Singh Patel | Bharatiya Janata Party |
| Fatehpur | Niranjan Jyoyi | Bharatiya Janata Party |
| Kaushambi | Vinod Kumar Sonkar | Bharatiya Janata Party |
| Barabanki | Upendra Singh Rawat | Bharatiya Janata Party |
| Faizabad | Lallu Singh | Bharatiya Janata Party |
| Bahraich | Akshaibar Lal  | Bharatiya Janata Party |
| Kaiserganj | Brijbhusan Sharan Singh | Bharatiya Janata Party |
| Gonda | Kirti Vardhan Singh Alias Raja Bhaiya | Bharatiya Janata Party |
| Sultanpur | Maneka Sanjai Gandhi | Bharatiya Janata Party |
| Pratapgarh | Sangam Lal Gupta | Bharatiya Janata Party |
| Phulpur | Keshari Devi Patel | Bharatiya Janata Party |
| Allahabad | Rita Bahuguna Joshi | Bharatiya Janata Party |
| Ambedkar Nagar | Ritesh Pandey | Bahujan Samaj Party |
| Shrawasti | Ram Shiromani | Bahujan Samaj Party |
| Domariyaganj | Jagdambika Pal | Bharatiya Janata Party |
| Basti | Harish Chandra alias Harish Dwivedi | Bharatiya Janata Party |
| Sant Kabir Nagar | Praveen Kumar Nishad | Bharatiya Janata Party |
| Lalganj | Sangeeta Azad | Bahujan Samaj Part |
| Azamgarh | Akhilesh Yadav | Samajwadi Party |
| Jaunpur | Shyam Singh Yadav | Bahujan Samaj Party |
| Machhlishahr | Bholanath (B.P. Saroj) | Bharatiya Janata Party |
| Bhadohi | Ram Chand | Bharatiya Janata Party |
| Maharajganj | Pankaj Choudhary | Bharatiya Janata Party |
| Gorakhpur | Ravi Kishan (Wins) | Bharatiya Janata Party |
| Kushi Nagar | Vijay Kumar Dubey | Bharatiya Janata Party |
| Deoria | Ramapati Ram Tripathi | Bharatiya Janata Party |
| Bansgaon | Kamlesh Paswan | Bharatiya Janata Party |
| Ghosi | Atul Kumar Singh | Bahujan Samaj Party |
| Salempur | Ravinder | Bharatiya Janata Party |
| Ballia | Virendra Singh | Bharatiya Janata Party |
| Ghazipur | Afzal Ansari | Bahujan Samaj Party |
| Chandauli | Dr. Mahendra Nath Pandey | Bharatiya Janata Party |
| Varanasi | Narendra Modi | Bharatiya Janata party |
| Mirzapur | Anupriya Singh Patel | Apna Dal (Soneylal) |
| Robertsganj | Pakauri Lal Kol | Apna Dal (Soneylal) |
Also Read | West Bengal Lok Sabha Results 2019: Full list of winners
Also Read| Chhattisgarh, Rajasthan, Madhya Pradesh Lok Sabha Results 2019: Full list of winners
Also Read| Gujarat Lok Sabha Results 2019: Full list of winners