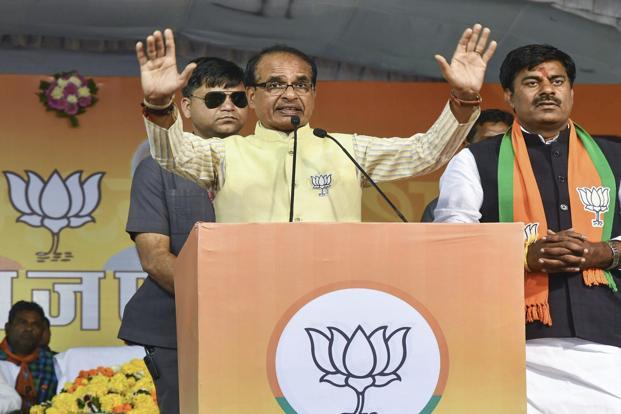 The Bharatiya Janata Party (BJP), led by Prime Minister Narendra Modi, was on Thursday set to retain power for another five years after making a sweep of the Lok Sabha battle and mauling the opposition.
So stunning was the BJP's showing that it bulldozed the opposition even where it had looked strong, virtually sweeping entire states in northern India and even beyond and making unprecedented inroads in Trinamool Congress-ruled West Bengal.
Narendra Modi led BJP swept through the Hindi heartland. Chattisgarh, Rajasthan and Madhya Pradesh were the 3 states which gave a pro-congress mandate in their respective assembly elections in December 2018. 
Lok Sabha Election Results 2019 Full list of winners and constituency wise details
Chhattisgarh
| | | |
| --- | --- | --- |
| Constituencies | Winning Candidates | Party |
| Bastar | Deepak Baij | Indian National Congress |
| Rajnandgaon | Santosh Pandey | Bharatiya Janata Party |
| Mahasamund | Chunni Lal Sahu | Bharatiya Janata Party |
| Kanker | Mohan Mandavi | Bharatiya Janata Party |
| Surguja | Renuka Singh  | Bharatiya Janata Party |
| Raigarh | Gomati Sai | Bharatiya Janata Party |
| Janjgir-Champa | Guharam Ajgalley | Bharatiya Janata Party |
| Korba | Jyotsna Charandas Mahant | Indian National Congress |
| Bilaspur | Arun Sao | Bharatiya Janata Party |
| Durg | Vijay Baghel | Bharatiya Janata Party |
| Raipur | Sunil Kumar Soni | Bharatiya Janata Party |
Rajasthan
| | | |
| --- | --- | --- |
| Constituencies | Winning Candidates | Party |
| Tonk-Sawai Madhopur | Sukhbir Singh Jaunapuria | Bharatiya Janata Party |
| Ajmer | Bhagirath Chaudhary | Bharatiya Janata Party |
| Pali | PP Chaudhary | Bharatiya Janata Party |
| Jodhpur | Gajendra Singh Shekhawat | Bharatiya Janata Party |
| Barmer | Kailash Choudhary | Bharatiya Janata Party |
| Jalore | Devaji Patel | Bharatiya Janata Party |
| Udaipur | Arunlal Meena | Bharatiya Janata Party |
| Banswara | Kanakmal Katara | Bharatiya Janata Party |
| Chittorgarh | Chandra Prakash Joshi | Bharatiya Janata Party |
| Rajsamand | Diya Kumari | Bharatiya Janta Party |
| Bhilwara | Subhash Chandra Baheria | Bharatiya Janata Party |
| Kota | Om Birla | Bharatiya Janata Party |
| Jhalawar-Baran | Dushyant Singh | Bharatiya Janata Party |
| Ganganagar | Nihal Chand | Bharatiya Janata Party |
| Bikaner | Arjun Ram Meghwal | Bharatiya Janata Party |
| Churu | Rahul Kaswan | Bharatiya Janata Party |
| Jhunjhunu | Narendra Kumar | Bharatiya Janata Party |
| Sikar | Sumedhanand Saraswati | Bharatiya Janata Party |
| Jaipur Rural | Col.Rajyavardhan Rathore | Bharatiya Janata Party |
| Jaipur | Ramcharan Bohra | Bharatiya Janata Party |
| Alwar | Balak Nath | Bharatiya Janata Party |
| Bharatpur | Ranjeeta Koli | Bharatiya Janata Party |
| Karauli-Dholpur | Manoj Rajoria | Bharatiya Janata Party |
| Dausa | Jaskaur Meena | Bharatiya Janata Party |
| Nagaur | Hanuman Beniwal | Rashtriya Loktantrik Party |
Madhya Pradesh
| | | |
| --- | --- | --- |
| Constituencies | Winning Candidates | Party |
| Sidhi | Riti Pathak | Bharatiya Janata Party |
| Shahdol | Himadri Singh | Bharatiya Janata Party |
| Jabalpur | Rakesh Singh | Bharatiya Janata Party |
| Mandla | Faggan Singh Kulaste | Bharatiya Janata Party |
| Balaghat | Dr Dhal Singh Bisen | Bharatiya Janata Party |
| Chhindwara | Nakul Kamal Nath | Indian National Congress |
| Tikamgarh | Dr Virendra Kumar | Bharatiya Janata Party |
| Damoh | Prahalad Singh Patel | Bharatiya Janata Party |
| Khajuraho | Vishnu Datt Sharma | Bharatiya Janata Party |
| Satna | Ganesh Singh | Bharatiya Janata Party |
| Rewa | Janardan Mishra | Bharatiya Janata Party |
| Hoshangabad | Uday Pratap Singh | Bharatiya Janata Party |
| Betul | Durga Das Uikey | Bharatiya Janata Party |
| Morena | Narendra Singh Tomar | Bharatiya Janata Party |
| Bhind | Sandhya Ray | Bharatiya Janata Party |
| Gwalior | Vivek Narayan Shejwalkar | Bharatiya Janata Party |
| Guna | Krishna Pal Singh (Dr KP Yadav) | Bharatiya Janata Party |
| Sagar | Rajbahadur Singh | Bharatiya Janata Party |
| Vidisha | Ramakant Bhargava | Bharatiya Janata Party |
| Bhopal | Sadhvi Pragya Singh Thakur | Bharatiya Janata Party |
| Rajgarh | Rodmal Nagar | Bharatiya Janata Party |
| Dewas | Mahendra Singh Solanky | Bharatiya Janata Party |
| Ujjain | Anil Firojiya | Bharatiya Janata Party |
| Mandsaur | Sudheer Gupta | Bharatiya Janata Party |
| Ratlam | Guman Singh Damor | Bharatiya Janata Party |
| Dhar | Chattarsingh Darbar | Bharatiya Janata Party |
| Indore | Shankar Lalwani | Bharatiya Janata Party |
| Khargone | Gajendra Umrao Singh Patel | Bharatiya Janata Party |
| Khandwa | Nandkumar Singh Chouhan (Nandu Bhaiya) | Bharatiya Janata Party |
Also Read| West Bengal Lok Sabha Results 2019: Full list of winners
Also Read|Gujarat Lok Sabha Results 2019: Full list of winners
Also Read| Uttar Pradesh Lok Sabha Results 2019: Full list of winners