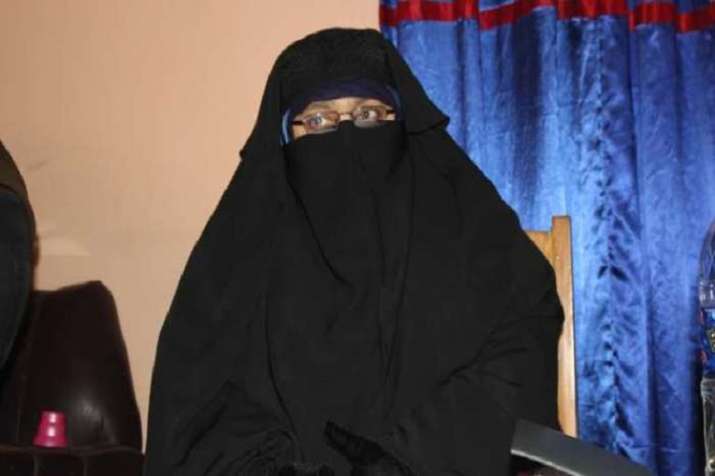 Asiya Andrabi, chief of the women's separatist group "Dukhtaran-e-Milat" (Daughters of Faith) and two of her associates were shifted to Delhi by the National Investigation Agency (NIA) on Friday.
Andrabi and the two were taken from Srinagar Central Jail to the Srinagar international airport by NIA officers for being shifted to Delhi, police sources said.
The NIA would be producing the three before the Patiala House Court in Delhi in connection with a sedition case filed against them by the central agency.
"NIA will seek the custody of the three for further interrogation," the sources added.
Earlier in the day, The NIA on took custody Aasiya Andrabi, and two others in connection with a case registered in April this year for allegedly waging war against the country and delivering hate speeches in Jammu and Kashmir.
Andrabi, who is in a prison in Srinagar after the Jammu and Kashmir High Court cancelled her bail last month, is being brought here from Kashmir along with her associates Sofi Fehmeeda and Nahida Nasreen.
The NIA, on directions of the Union Home Ministry, registered a case against them as well as the organisation, which is banned under the Unlawful Activities (Prevention) Act, 1967, in April this year. 
According to the FIR, the "central government has received information that one Aasiya Andrabi and her associates namely Sofi Fehmeeda and Nahida Nasreen are actively running a terrorist organization named as 'Dukhtaran-E-Millat' (DEM) which is proscribed under the First Schedule to the UAPA". 
"They are using various media platforms to spread insurrectionary imputations and hateful speeches that endanger the integrity, security, and sovereignty of India. DEM through Aasiya Andrabi openly advocates secession of Jammu and Kashmir from the Union of India and has also called for Jihad and use of violence against India," the FIR alleged. 
The agency also said in the FIR that Andrabi and her associates had spoken, written and also published "visible representations that bring into hatred and contempt apart from exciting disaffection towards the Government of India". 
The organisation, it added, is promoting enmity, hatred, and ill-will between different communities on the grounds of religion and is doing acts prejudicial to maintenance of harmony. 
Andrabi has solicited help from proscribed terrorist organizations and along with her associates has entered into a criminal conspiracy to wage war against the Government of India, the FIR alleged. 
She was arrested by the Jammu and Kashmir police in Anantnag in April this year for allegedly planning to organise a large-scale demonstration and stone-pelting in the area. She was not released despite being granted bail by the court and was arrested in a different case.