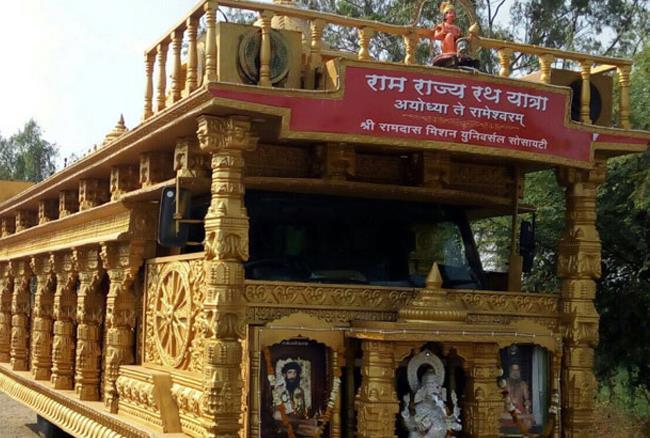 Fearing communal tensions, DMK leader MK Stalin has urged the Tamil Nadu government to immediately stop the Ram Rajya Rath Yatra from entering the state. 
M K Stalin on Monday condemned the State government for granting permission for the yatra. He accused the saffron brigade of attempting to disrupt communal harmony prevailing in Tamil Nadu, in order to set foot in the State.
Four independent MLAs also moved a petition urging Chief Minister Edappadi K Palaniswami's government to deny the Vishwa Hindu Parishad yatra permission to proceed into Tamil Nadu from Kerala.
Section 144 has been imposed in Tirunelveli district and will be in force till Friday evening since several pro-Tamil, minority and Left groups are expected to attempt to block the yatra.
In an order promulgated by the District Magistrate and Collector Sandeep Nanduri it has been stated that a serious and grave possibility of public order disturbance, communal clash, danger to public peace and tranquillity exists in the district. "Even a minor incident will snowball into a major communal clash," the report read. Meanwhile, as many as 940 police were deployed at Sengottai and nearby places to prevent any incidents.
The yatra began in Uttar Pradesh on February 13 and is scheduled to end in Rameshwaram, a region in southern Tamil Nadu that features in the Hindu epic Ramayan. 
The yatra will enter Puliyarai in Tirunelveli on March 20 via Punalur in Kerala and pass through Sengottai, Ilangi, Tenkasi, Kadayanalloor, Puliyangudi, Vasudevanalloor, Sivagiri and proceed to Rameswaram via Rajapalayam and Madurai. Parties including DMK, MDMK, VCK, NTK and others have been demanding the government not to give permission for the yatra.