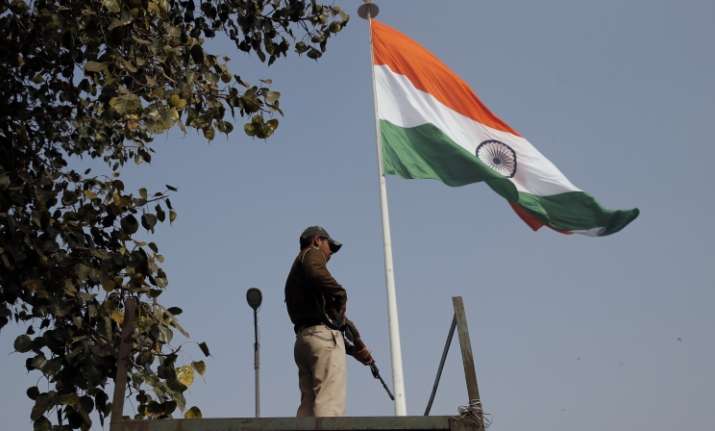 The national capital, New Delhi, has turned into a fortress as India celebrates its 69th Republic Day on Friday. Delhi Police has issued an advisory guiding residents on the routes to be followed and avoided today. 
Elaborate traffic arrangements and restrictions are in place for smooth conduct of the parade along the route spanning from Vijay Chowk to Red Fort. 
Traffic restrictions
# There would be no traffic movement on Rajpath from Vijay Chowk to India Gate till the parade is over around noon on January 26.
# No cross traffic on Rajpath from 1100hrs of January 25 at Rafi Marg, Janpath, Man Singh till parade is over.
# India Gate will be shut for traffic from 0200hrs on January 26 till parade is over.
# Traffic would not be allowed in both directions on Tilak Marg, BSZ Marg and Subhash Marg from 1000hrs on January 26.
# Delhi Traffic Police has urged commuters to check Google Maps for the best alternate routes.
Besides this, police has also warned the public to be wary of any unidentified object or suspicious person. 
Flying of sub conventional aerial platforms like para-gliders, para motors, hand gliders,UAVs, UASs,microlight aircraft, remotely piloted aircraft,hot air balloons,small size powered aircraft, quadcopters or para jumping from aircraft etc. are prohibited over the jurisdiction of NCT of Delhi till February 9.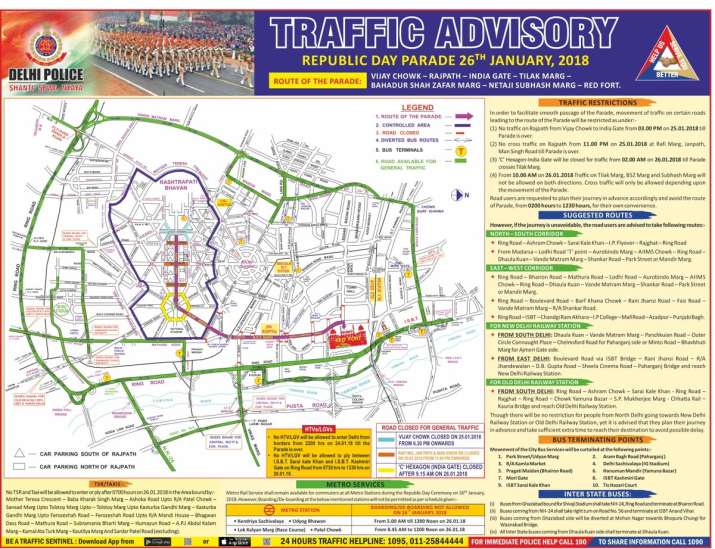 Delhi Metro services
The services of Delhi Metro will be partially curtailed on January 26, as part of the security arrangements for the Republic Day celebrations .
# All parking lots in the metro stations will remain closed till 2 PM on Republic Day.
# Metro schedules of Line - 2 (HUDA City Centre - Samaypur Badli), Line - 3 (Noida City Centre - Dwarka Sector 21), Line -4 (Yamuna Bank to Vaishali) and Line 6 (Kashmere Gate-Escorts Mujesar) have been partially modified for January 26, Friday.
# For Line 2, the entry and exit at Central Secretariat and Udyog Bhawan Metro stations will remain closed from 6 AM to12 noon. In Patel Chowk and Lok Kalyan Marg metro stations, entry and exit will remain closed from 8:45 AM to 12:00 Noon.
# Central Secretariat station will only be used for interchange of passengers between Line 2 and Line 6.
# For Line 3 and 4, train services will be stopped at Mandi House and Pragati Maidan Metro stations during the period when parade passes under Tilak Bridge. However, the actual time of stoppage of train movement will be on receipt of directions from New Delhi Police Control Room.
During this period, trains will run in three short loops on this corridor - NOIDA City Centre to Indraprastha, Vaishali to Yamuna Bank, Dwarka Sector 21 to Barakhamba Road.
# The metro stations on Line-6 namely ITO, Delhi Gate, Lal Quila, Jama Masjid will remain open throughout the day.
Wrapped in an unprecedented security blanket with thousands of security personnel keeping a hawk-eyed vigil to prevent any untoward incident during the celebrations,New Delhi is shielded with mobile hit teams, anti-aircraft guns deployment of sharpshooters to keep a watch on the eight-km-long parade route from Rajpath to Red Fort besides nearby localities.
WATCH VIDEO: