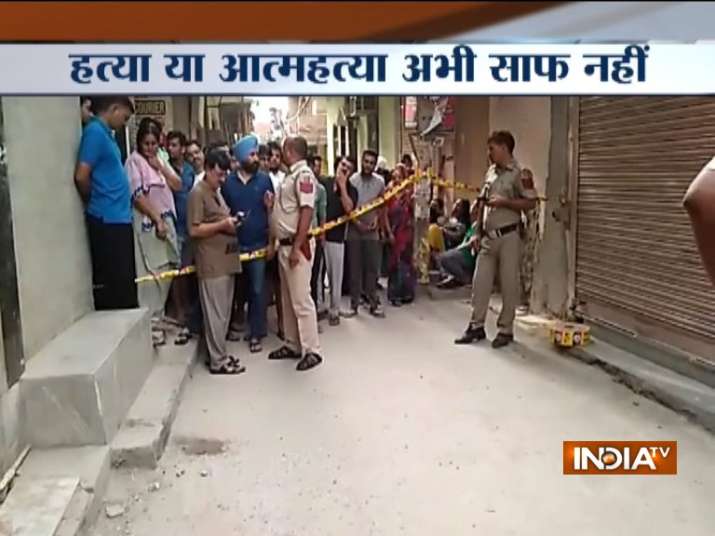 At least 11 members of a family were found dead under suspicious circumstances in New Delhi's Burari area on Sunday morning. According to initial reports, the bodies were found hanging with their mouths and eyes gagged. 
Bodies of seven women and four men, including three teenagers, have been found. We are investigating from all possible angles, we are not ruling out anything, Joint CP Delhi told media on Sunday. 
The police have taken the bodies for post mortem at Guru Gobind Singh Hospital. A probe has been launched. The police are not certain if the deaths were a result of suicide or murder. 
Delhi Chief Minister Arvind Kejriwal visits #Burari where bodies of 11 people were found at a house, earlier today, says, "police investigation is underway." pic.twitter.com/RrHjqg0LVZ

— ANI (@ANI) July 1, 2018
According to sources, 10 bodies were found blindfolded and hanging from a railing in the house, while one body was found lying on the floor. 
India TV spoke to the first person who spotted the bodies and informed the police. The neighbour, Gurcharan Singh, said that the family used to open their grocery store sharp at 6 am, today when the shop remained closed till 7:45 am he went to check up on them at their first floor residence and found them dead. He said that he found 10 bodies hanging by dupatas, while the body of the 75-year-old woman was lying on the floor.  
The members of the deceased family included: 
1. Narayan 75 yrs female
2. Partibha d/o Narayan 60 yrs female
3. Priyanka d/o Partibha 30 yrs female
4. Bhupi s/o Narayan 46 yrs male
5. Swita w/o Bhupi 42 yrs female
6. Nitu d/o Bhupi 24 yrs female
7. Meenu d/o Bhupi 22 yrs female
8. Dhiru s/o Bhupi 12 yrs make in
9. Lalit s/o Narayan 42 yrs male
10. Tina w/o Lalit 38 yrs female
11. Dhiru s/o Lalit 12 yrs male 
Priyanka was recently engaged.
The neighbours said that the family never disclosed any financial or familial troubles in the past. They had closed the shop at the usual 11:45 pm last night and did not show any signs of distress. 
The police investigation has confirmed that the elderly lady was killed by asphyxiation, but cause of other deaths is yet to be confirmed.
Watch video: