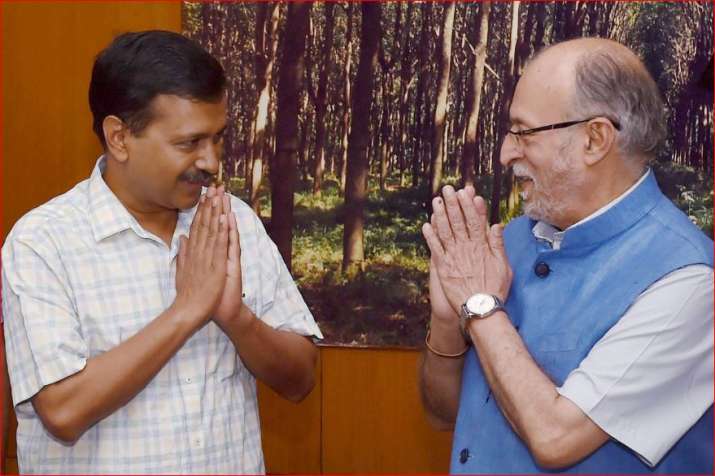 In what could trigger a fresh bout of tussle between the Aam Aadmi Party (AAP) government and the Lieutenant Governor's office, LG Anil Baijal has transferred three IAS officers. The transfers have been initiated by the LG office despite objections from the Kejriwal government.
According to reports, Soumya Gupta has been removed as director, education department. Gupta has been replaced by Sanjay Goyal. Similarly, Chanchal Yadav, who served as Deputy Commissioner, South DMC, has been shifted as Special Secretary to Lieutenant Governor. Dr. Vasanthakumar N, has been made Special Commissioner (Trade and Taxes).
The latest tranfer, postings is likely to intensify the turf war between the Kejriwal government and LG office over who actually rules Delhi.
CM Kejriwal had on Monday (June 9) shot a letter to Lt Governor Anil Baijal accusing him of being "selective" in accepting the Supreme Court verdict on distribution of powers in Delhi. However, the LG dismissed the charge, intensifying the war of words between them. 
Kejriwal wrote to Baijal wondering how he can be "selective" in accepting the July 4 verdict of the apex court. He urged Baijal to implement the judgment in letter and spirit and asserted that the Home Ministry does not have the powers to interpret the order. 
The chief minister also urged the LG to approach the Supreme Court immediately to clear any confusion but said "kindly don't violate the order of the apex court". 
"Either you should take a position that all the matters now would be placed before regular bench and therefore, you would not implement any part of the order. Or you should accept the whole order and implement it. How can you say that you will accept this para of the order but not accept that para of the same order?" Kejriwal said in the letter. 
Replying to Kejriwal, the Lt Governor said he was quoted "selectively" and charged "erroneously" by the chief minister. 
Baijal appeared to allege that Kejriwal's letter was leaked on social and electronic media before it reached his office.
"While the entire judgment and its implications are still being studied, it may kindly be noted that in the concluding paras, Hon'ble Court while answering the reference has directed to place the matters before the appropriate regular bench. Therefore, further clarity will be achieved when the appeals pending before the regular bench are finally disposed off," Baijal's office said quoting his July 6 letter. 
(With inputs from PTI)