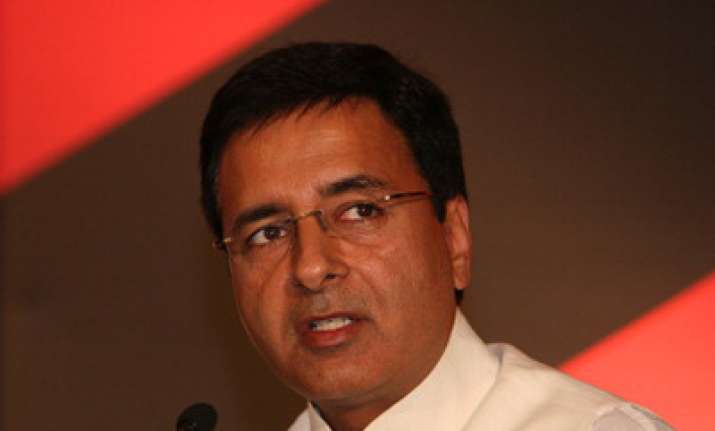 Stepping up attack on Narendra Modi government over the Rafale fighter jet deal with France, the Congress on Saturday said that the party will launch a nation-wide agitation on the issue.
Terming the deal a "scam" of the Narendra Modi government, the Congress alleged that there had been a loss of Rs 41,000 crore to the exchequer.
According to Congress Communications In-charge Randeep Singh Surjewala, the party will launch an agitation to highlight "bhrashtachar ka khel, Rafale" (corruption in Rafale deal).
The issue came up for discussion at a meeting of Congress general secretaries, party in-charges of states, legislative party leaders and state unit chiefs, which was presided over by Congress President Rahul Gandhi. 
The meeting discussed the party's preparations for the assembly polls later this year in Rajasthan, Chhattisgarh, Madhya Pradesh and Mizoram. 
Briefing reporters later, Congress Communications In-charge Randeep Singh Surjewala said the meeting discussed "political challenges in the election-bound states".
 "It was decided that the scams of Modi government, particularly the Rafale scam, will be taken to the people of India. In next 30 days, Congress workers will fan out and hold district and state-level demonstrations," Surjewala said.
He alleged that a contract in the Rafale deal had been "snatched away" from Hindustan Aeronautics Ltd, a public sector undertaking.
Surjewala said that party leaders, including Congress Working Committee members, general secretaries, in-charges of states and party secretaries, will approach people at block, district and state levels and "ensure that a fair and independent probe and a JPC (joint parliamentary committee) probe into the Rafale deal is constituted immediately."
"We will push the government, we will not stop, we will not be deterred," Surjewala said.
(With PTI inputs)