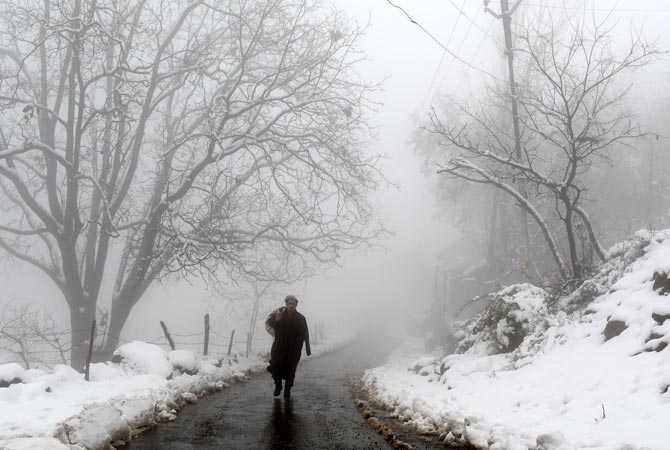 Cold wave conditions continued unabated in Kashmir on Sunday with temperatures hovering several degrees below the freezing point in the valley and Ladakh region.
Kargil continued to be the coldest recorded place in the state while the temperature in nearby Leh settled at minus 11.9 degrees Celsius, a MeT department official said.
"Jammu recorded 4.1 degrees celsius as the minimum temperature on Sunday. Kargil was the coldest in state where the minimum temperature dropped to minus 16, followed by Leh at minus 11.9," he added.
Srinagar, the state's summer capital recorded minus 4.8 degree Celsius, Pahalgam minus 5.6 and Gulmarg minus 8.6 as the night's lowest temperatures.
Mata Vaishno Devi Shrine base town Katra recorded 5.1 degrees Celsius, Batote 1, Bannihal minus 2.2, Bhaderwah 0.6 and Udhampur 1.3 as the minimum temperature on Sunday.
The region is currently under the grip of Chillai-Kalan, a 40-day harshest period of winter when the chances of snowfall are most frequent and maximum and the temperature drops considerably.
It ends on January 31, but the cold wave continues even after that in the valley. The 40-day period is followed by a 20-day long Chillai-Khurd (small cold) and a 10-day long Chillai-Bachha (baby cold).