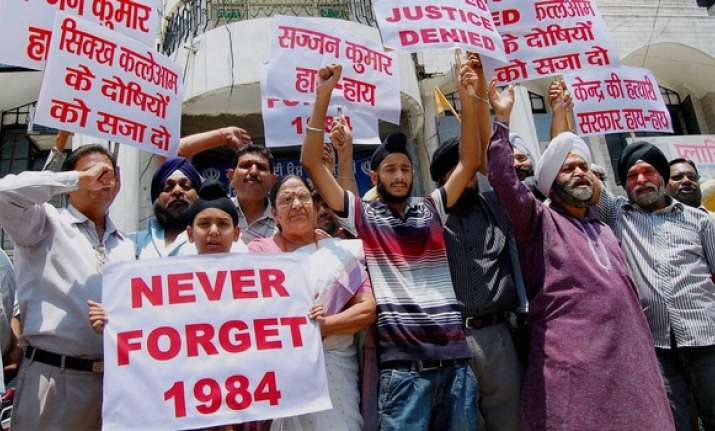 New Delhi: Centre's Special Investigation Team (SIT) probing the 1984 anti-Sikh riots is set to reopen and reinvestigate around 75 closed cases in Delhi.
"Delhi had 237 anti-Sikh riot cases that were closed because of non-availability of victims or lack of evidence. After reviewing their documents, the SIT has decided to reopen about 75 cases so far," Hindustan Times quoted a government official involved in the review process.
The SIT will issue advertisements regarding these cases and ask victims and witnesses to join the probe.
The riots consumed over 3000 lives across the country and over 2500 in Delhi alone. Different estimates peg different number with some claiming 3000 deaths in Delhi alone. Riots broke out after the assassination of Prime Minister Indira Gandhi by her Sikh bodyguards on October 31, 1984.
Delhi Police registered 587 cases in connection with the riots. Later, it closed 241 cases but four were reopened in 2006 and one in 2013, which led to the conviction of 35 people. The rest of the 237 cases remained closed.
The move holds significance as Delhi's neighbouring state Punjab, where Sikhs are in majority, votes for new government next year. Aam Aadmi Party (AAP), Congress and BJP-Shiromani Akali Dal alliance are locked in a triangular battle in the state.
The development comes a week after Delhi Chief Minister Arvind Kejriwal wrote an open letter to Prime Minister Narendra Modi and termed the SIT by Centre "just an eyewash".
"SIT (constituted by the central government) had been set up on February 12, 2015. It was slated to file its report on August 12, 2015...SIT failed to reopen even single case! Now, apprehension is growing in the minds of people that this SIT was just an eyewash and you (PM) formed an ineffective SIT..," Kejriwal said in a letter to the Prime Minister. 
"I would urge you to either get your SIT to do something or kindly wind up this SIT and allow the Delhi government to set up an SIT which will do proper investigations and get justice for the victims," the AAP leader said in the letter. 
Responding to the SIT's decision, senior lawyer and AAP leader HS Phoolka said, "We will have to wait and see the details of the cases being reopened by the SIT. The point is whether they are against the organisers of the riots or just eyewash like previous probes." 
"Another point is why they waited so long to decide on reopening the cases. They should have opened the cases one by one rather than wait till now."
The SIT was set up in February 12, 2015, for six months following a recommendation by a committee headed by former Supreme Court judge Justice (retd) GP Mathur. After its term ended, the Union home ministry extended it for a year.